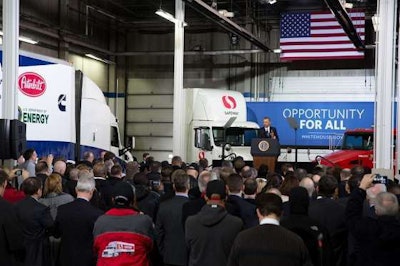 Making good on a State of the Union commitment, President Obama on Tuesday directed the Environmental Protection Agency and the Department of Transportation to begin work on a new round of fuel efficiency standards for medium- and heavy-duty trucks.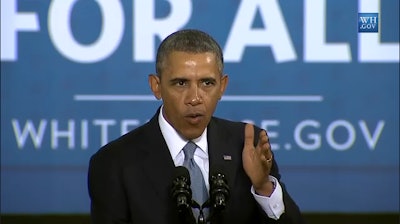 The latest in a series of executive actions designed to sidestep an uncooperative Congress, the administration timeline calls for draft regulatory language to be ready by March 2015, with another year for review and implementation.
Speaking from a Safeway distribution center in Maryland, and flanked by a Safeway Volvo and a Coca-Cola branded Kenworth daycab, Obama said improving truck fuel efficiency would reduce carbon dioxide emissions and combat climate change, while also driving down fuel costs and lowering the price of consumer goods.
"It's not just a win-win, it's a win-win-win," he said. "We got three wins."
Noting that heavy-duty trucks represent just 4 percent of all vehicles on the highway yet generate 20 percent of the transportation sector's greenhouse gas emissions, the president also said the administration would be offering new tax credits for companies that make trucks and those that build fuel infrastructure "so that trucks running on biodiesel or natural gas or hybrid electric technology will have more places to fill up."
Tax policy changes, however, will need support from Congress – and without legislation, executive orders stand to be undone by a future administration. But Obama believes lowering fuel costs and reducing carbon output is a goal worthy of bipartisanship.
"If rivals like … UPS and FedEx … can join together on this, then maybe Democrats and Republicans can do the same," he said.
The White House has published its latest analysis of the issue, available here.
The trucking industry, which worked with the Obama administration on the original truck fuel efficiency standards that took effect Jan. 1, is generally supportive and cautiously optimistic about the latest proposal.
"We stood shoulder-to-shoulder with the president and his administration in 2011 when the historic first fuel efficiency standards were set for heavy-duty vehicles," said ATA President and CEO Bill Graves. "As we begin this new round of standards, ATA hopes the administration will set forth a path that is both based on the best science and research available and economically achievable."
ATA has drafted a set of guiding principles for evaluating future emissions standards. Those principles include harmonization with existing California Air Resources Board rules, economic and scientific feasibility and a recognition of trucking's diversity in the use of equipment.
"Trucking is a very diverse industry," said ATA Chairman Phil Byrd, president of Bulldog Hiway Express, Charleston, S.C., who was on hand to greet the president as he stepped off the platform. "As such, whatever standards the administration sets should reflect that diversity and whatever tests are devised should accurately reflect what drivers face on the roads every day."
ATA has also pushed for sustainability alternatives, including a national speed limit of 65 miles per hour, increased participation in SmartWay for fuel efficiency, improving truck productivity and reductions in idling, the trucking group notes.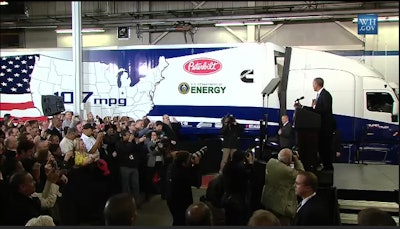 Truck and engine manufacturers likewise have endorsed the goal of improved fuel efficiency.
"Cummins supports standards that deliver environmental benefits and help our customers in the form of increased fuel efficiency and cost savings," said Rich Freeland, Cummins vice president and president – Engine Business. "The first phase of these regulations provides a strong foundation that recognizes the needs of business while offering clear direction to create innovative technologies. With the announcement today, it is clear that the government will again take a collaborative approach. We look forward to working with regulators, our customers and others on the next phase of standards that will lead to even greater reductions in greenhouse gases and fuel consumption."
A Cummins-Peterbilt "SuperTruck" also was on display at the Maryland event. That tractor-trailer has been part of a public-private partnership sponsored by the Department of Energy to promote innovation in the industry.
Daimler Trucks North America, which makes Freightliner and Western Star trucks, also stated its support for working with the administration on Phase II.
"DTNA is committed to regulatory leadership and we applaud standards that include total cost of ownership as a primary benefit for our customers," said Sean Waters, director of product compliance and regulatory affairs. "Freightliner customers have come to rely on us to keep them in an industry leading position regardless of regulatory requirements."
And Navistar International pledged to continue its collaboration with EPA and the National Highway Traffic Safety Administration on this next phase.
"Our customers continue to look for every percent of fuel economy improvement and that makes finding new solutions an ongoing priority for us at Navistar," said Denny Mooney, group vice president, Global Product Development, Navistar.
The Diesel Technology Forum, which promotes development of clean diesel technology, says that nearly 3 million of the almost 9 million heavy-duty trucks in the U.S. meet the first-generation clean diesel standards for model year 2007 engines. Of all trucks on the road today, 1.3 million (14.7 percent) meet the even more stringent clean diesel standards for 2010 and later model year engines.
By DTF's calculation, the fleet of clean diesel trucks reduced emissions of NOx by one million tons in 2012, the same amount of NOx reduction that would result from removing 87 million light duty cars and trucks from the road for one year.
"Today's announcement sets up the next challenge for clean diesel technology to further improve fuel efficiency and reduce greenhouse gas emissions from commercial vehicles," said Allen Schaeffer, the executive director of the forum.