The driver's union for the Port Metro Vancouver voted this weekend to join a non-union-organized strike at the Vancouver Port March 6, as the Unifor-Vancouver Container Truckers' Association said it will begin a strike March 6 if its issues with wait time and rates at the port are not resolved by then.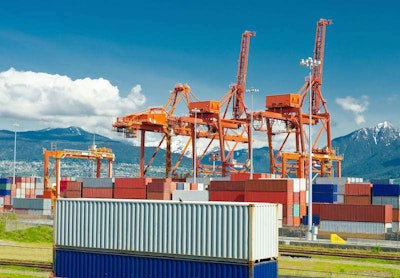 The non-union United Truckers Association began a work stoppage Feb. 26 for the same issues, but port officials have obtained an injunction against the protestors disrupting operations at the port.
Port officials also announced they have agreed to some propositions by the British Columbia Trucking Association to address the excessive wait times and rate disagreements.
BCTA's plan includes extending hours and changing the port's fee structure, and it's being circulated to trucking companies that serve the port.
The association has also recommended that the port conduct rate audits, waive the Terminal Gate compliance Fee when delays cause a ripple effect of missed appointments and pay trucking companies Terminal Gate Efficiency Fees for impacted by delays.
A judge granted the port's injunction order request after security video (embedded above) shows UTA members allegedly stopping and vandalizing a truck coming into the port.
Authorities also have witness testimony saying there were threats, intimidation and sabotage of property.