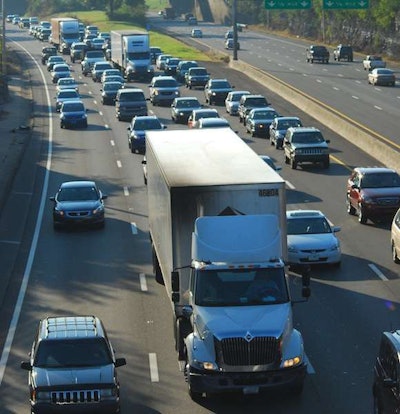 Traffic congestion in the U.S. shot up in 2013 on the heels of economic expansion, according to a report this week released by traffic data firm Inrix.
Congestion growth, however, outpaced the growth of the U.S. economy by 3 to 1: Traffic congestion rose 6 percent, according to Inrix, while 2013 saw a 1.9 percent growth in GDP.
2013's increase came after two years of decline in congestion caused by the tail end of the 2008-2009 recession, but 2013's economic uptick — along with its increase in employment and hiring — pushed congestion upwards, Inrix says.
And 2014's congestion could be on pace to be even worse, per Inrix, as the U.S. economy is projected to grow even more this year.
In 2013, four out of the top 10 most congested cities in the U.S. had a double-digit spike in traffic congestion, measured by the average number of hours commuters spent sitting in traffic in the year: Honolulu, San Francisco, San Jose (Calif.) and Boston all had growth greater than 10 percent, Inrix says.
Los Angeles is the country's most congested city and had an 8.5 percent increase in congestion from the previous year. Honolulu's congestion increased 18 percent, and San Francisco's increased 13 percent.
Rounding out the top five, Austin and New York had 9 percent and 5 percent growth in congestion, respectively. Boston, No. 9 on the list, had 22 percent growth in traffic congestion.
Washington, D.C., the No. 10 most congested city on the list, was the only city in the top 10 to have less congestion the in 2012, falling 1 percent.
USA Today in an article on Inrix's report cites another source that says growth in truck mileage outpaced that of growth in car mileage, signaling greater movement of goods following the recession.
Inrix's Bryan Mistele, president and CEO, says the U.S. needs to take steps to battle increasing congestion using technology rather than simply building more roads.
"If we're to avoid traffic congestion becoming a further drain on our economies, we must invest in intelligent transportation systems and connected car technologies now," he said. "It's too late to build our way out of congestion – we've learned there is no such thing as 'shovel ready projects.' Optimizing road networks through better technology and data analytics will be the only way to relieve congestion as the economy recovers in the near term."