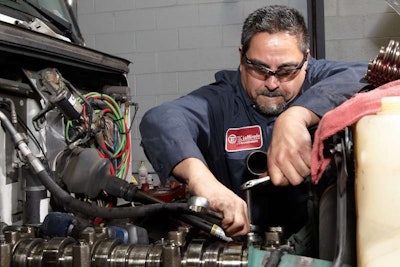 After a good night's sleep following the Technology and Maintenance Council's spring meeting in Nashville, Tenn., I found myself considering the various themes and threads that emerged from the conference.
One subject that ran like an undercurrent throughout the entire meeting was remote repairs for trucks that break down far away from home. This has become a big issue for the industry, and it will be interesting to see how it plays out over the coming months and years.
The irony is that with today's technology, this doesn't have to be a big deal. We live in an age of increasingly intelligent trucks with communication capabilities that are expanding at a phenomenal rate. OEMs like Freightliner and Volvo have introduced telematics systems designed to prioritize – or even self-diagnose and avert – failures and remove real or perceived dealer favoritism from the equation.
But even now when a remote breakdown occurs, fleet managers still feel their assets are being tied up too long. This widespread belief led to a spirited debate at the Fleet Talk Session in which a fleet manager whose truck sat idle at a dealer's shop for eight days decried getting the runaround from the dealer. An independent repair shop owner argued that such bottlenecks at his shop aren't his fault; his hands usually are tied dealing with OEMs and trying to get a clear answer on what work he can carry out, and what work is covered by the vehicle warranty.
All of this takes us back to the ongoing "Right to Repair" battle: What's a fleet owner to do if his truck is broken down far from home and he doesn't feel the dealer is making his truck a priority? What about the local independent repair shop that would love to have the work and has the time, but might not be able to fix the truck because the OEM has declined to share its proprietary ECM data?
OEMs, for their part, believe that simply giving up that information is not an option. As my friend Dave McKenna at Mack Trucks likes to say, those engine codes are the industry equivalent to the formula for Coca-Cola or KFC's sacred 11 herbs and spices; there's no way either of those companies are giving their competitors a look. The sense of frustration from all sides is palpable.
Remote repairs: Fleet managers still feel their assets are being tied up too long.
Proprietary data: OEMs won't share 'secret recipes' with independent shops.
Escalating concern: Nontraditional service providers are getting into the game.
The concern over timely remote truck repairs has reached the point where nontraditional service providers are getting into the game. At TMC, Michelin launched its new nationwide Truck Care repair network led by Bruce Stockman, whose maintenance pedigree includes a stint as fleet manager for less-than-truckload heavyweight Con-Way Freight. Stockton says Truck Care's goal is to "provide a consistent network at each of its 42 existing locations in terms of parts, price and quality of work based on TMC Recommended Practices."
Just as important, Stockton says, is the data component of the Truck Care network, which interfaces directly with a fleet's asset management system to provide seamless and consistent VRMS-coded data to eliminate paperwork while updating fleet managers on repair times and vehicle history.
Stockton says Michelin's eventual goal is to have 300 Truck Care centers nationwide that will provide both emergency and outsourced fleet maintenance solutions for Class 5-8 trucks. The Truck Care centers will incorporate and expand on Michelin's existing OnCall Roadside Support program to help fleets quickly deal with breakdowns, out-of-service citations and overflow shop work during peak periods at home.
The market is responding to the demand for additional vehicle support for remote heavy-duty trucks – another interesting component to an evolving story with high stakes for fleets, OEMs and service providers alike.