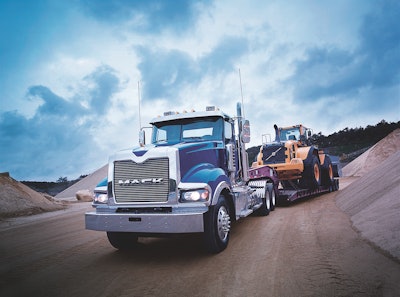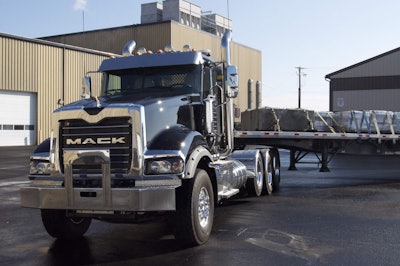 If you went into a lab and boiled down everything Mack trucks has learned and experienced over the past 114 years to its purest essence – everything battlefield Macks have fought on, every jobsite, every bridge, dam and highway they've helped build, you'd probably come away with a truck very close to the 2014 Mack Titan.
Titan is Mack's heavy-haul/severe-service Big Dog: A beast of a truck with a 265 inch wheelbase, a 44,000 pound Mack S440 rear axle and a 605 horsepower Mack MP10 diesel engine under the hood. In an age where Mack is known as an aerodynamic and fuel economy leader, the Titan is a throwback to an age when trucks got their work done by dint of sheer, brute force.
Titan isn't a new truck, exactly. Mack debuted the model back in 2006 – just in time to watch the economy – and the construction sector in particularly – crash spectacularly. Since then, the company hasn't bothered to do much in the way of promoting the truck, preferring to wait patiently until things improved. And although we'd all love to see Congress pass a highway bill sometime soon, the beleaguered construction industry is showing particularly strong signs of life at the moment. Housing starts are up and oil field work is going like gangbusters. So when I called Mack up and inquired about getting behind the wheel of a Titan, they were only too happy to oblige.
For a good indicator of how tough Titan is, you need only turn your head Down Under, to the Australian Outback, when the truck is a preferred hauler pulling roadtrains across the barren desert wastes. In fact, according to Mack, the Titan currently holds the record Down Under for the largest roadtrain haul on the books.
With numbers like that backing it up, it was a sure bet my Titan – which had just returned from doing booth duty at the big ConExpo construction show in Las Vegas — was more than up to hauling a flatbed loaded with 80,000 pounds of concrete barricades.
Stu Russoli, Mack's product manager for vocational market segments, told me this particular truck is spec'd especially for Texas oil field work, and as such comes with the aforementioned longer wheelbase and high-horsepower diesel engine as well as extra goodies like a 52-inch axle spacing, Mack 18-speed manual transmission and top-of-the-line Rawhide interior package.
This is a truck that looks good in shining black with a gold Mack Bulldog sitting proudly on the nose: Those in the know understand a gold Bulldog signifies an all-Mack power- and drivetrain on the truck: from the engine bay all the way to the rear axles.
Despite its size, visibility from the driver's seat in a Titan tractor is extremely good. The height of the cab, combined with some artful engineering work up front means this visibility holds true even looking out to the front of the truck, over the long-nosed hood required to give the Mack MP10 engine a home.
Speaking of the MP10, I cannot say enough good things about it. Russoli, a native of Allentown, had picked a fairly demanding route up and over the Blue Ridge Mountains outside Allentown for our drive. Thanks to the generous 2,060 foot-pounds of torque and 605 on-demand horses, the truck never faltered. It could easily pull tough mountain grades and even accelerate while doing so. And on the downslope, the MP10's PowerLeash engine brake easily held the heavily loaded truck at my desired speed with minimal braking.
As big as Titan is, with a long, oil field flatbed behind it, in-town maneuvering takes a bit of patience. Of course, in a truck this big, if you need to grab an extra lane or two to make a tight turn, nobody's going contest you. But the deep, front axle wheel cuts and the excellent side and rear views help tremendously in heavy traffic and in tight surroundings. Even better, the MP10 engine provides plenty of up-front oomph to get the truck moving in a hurry and help keep traffic flowing all around you.
Out on the road, Titan handles like a much smaller truck. It's not unusual for a truck of this size, pulling such a heavy load, to wander around at highway speeds. But Titan does no such thing. The truck is extremely docile at cruise speeds with precise, smooth handling.
Braking was also surprisingly responsive. My Titan featured 17-inch front air disc brakes which provided sure stopping power on demand. This is a truck that never feels like its in danger of getting away from you – no matter how much payload you've got behind you.
In the cab, the slate gray, Rawhide interior with button-tuck upholstery contrasted well with the brushed aluminum dash and door facings. Ergonomically the truck is very comfortable for the driver thanks to the Mack air suspension seat and well-designed armrests and control placements and infinitely adjustable steering wheel. Large, easy-to-read gauges provide critical information at a glance, while Mack's center-dash mounted driver information center provides a wealth of in-depth vehicle intelligence, including instant MPG numbers and driver "sweet spot" coaching to help insure consistent fuel economy performance.
Titan is — without a doubt – a highly specialized truck. But if tough work in tough terrain is your job description, then it's a truck that's well worth a test drive on your part.