From technology innovations that impact transport refrigeration to strategies and solutions for improving operational efficiency, Thermo King's exhibit space at the 2014 Mid-America Trucking Show features four customer-driven solutions and services at the show.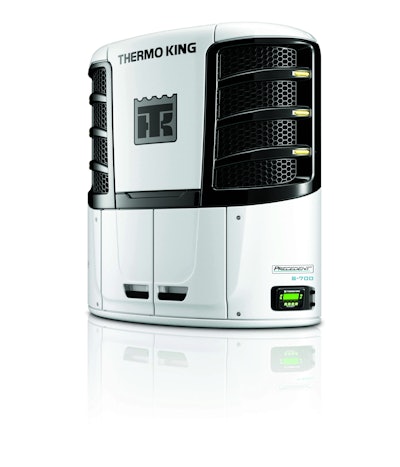 The all-new Precedent S-700 is the only deep frozen refrigeration unit with shore power capabilities. The S-700 is designed to be a solution for customers moving temperature sensitive products like pharmaceuticals, fresh seafood or other deep freeze loads through hot climates.
A member of the Precedent family, the S-700 features a completely new platform for the trailer market designed to be fully compliant with the new EPA Tier IV final regulations without the addition of diesel particulate filters or engine emissions systems, according to Dwayne Cowan, vice president of sales.
Based on customer feedback, the updated TriPac Evolution Auxiliary Power Unit features software that can be customized to enhance the operating profile.
The APU also features an extended maintenance interval of 2,000 hours, an updated flash-loadable control system and improved service access for easier maintenance.
TracKing is a dynamic, web-enabled trailer tracking system that provides end-to-end visibility of refrigerated assets over the road, on rail cars and in the yard. Operating off an intelligent embedded wireless communication platform, it is a flexible and comprehensive solution delivering real-time and historical temperature and fleet information.
TracKing provides fleet owners the tools to protect refrigerated cargo, improve asset utilization and manage operating costs, says Cowan.
The X430P compressor was engineered to exceed industry standards for fuel efficiency and longevity. The X430P uses integrated oil filters that reduce leaks and installation time, and the compressor's industry leading shaft seal design results in 85 percent improved reliability.
Thermo King compressors are built to run longer, more efficiently and deliver faster pull-down time, the company says.