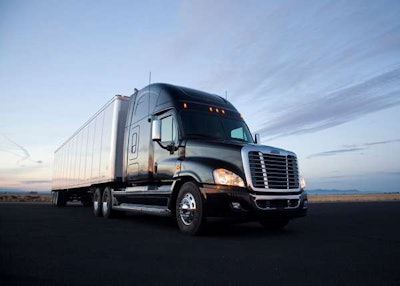 Nearly four months into 2014, there are reasons for optimism.
At the HDMA Breakfast Briefing at the Mid-America Trucking Show in Louisville, Ky. Friday, Pat Cavanagh, 2014 HDMA Chairman and president of Enovation Controls, said 2014 has potential for significant growth based on underlying industrial fundamentals.
Rising truck demand looks promising for the next two years, he adds, with a 10 percent projected growth in 2014 and 9 percent in 2015.
Dr. Wolfgang Bernhard, CEO of Daimler Trucks & Buses, who served as keynote speaker for the event, says those projections may be conservative.
"Everything we've seen so far points to even bigger growth," he says. "Order intake the last couple months was very promising. The truck fleet is about 11 years old. It's about time that pent up demand comes to us."
Bernhard says truck demand is coming from small and medium fleets and from rental fleets. Activity from rental fleets is exciting, Bernhard says, because those are typically businesses who are seeing a need for increased capacity, but rent trucks versus buy them to see if that growth is sustained.
"The U.S. truck industry is the backbone of the world's largest economy," he says, noting trucks move 9.2 billion tons of freight per year.
Among the areas where the U.S. has led the charge in trucking are emissions. The U.S. made efforts to improve truck emissions nearly 5 years before any other country and now boasts some of the cleanest-burning vehicles on the planet.
Since 1984, emissions have reduced by upwards of 99 percent, Bernhard says.
"In terms of emissions, the U.S. industry is second to none," he says. "Some people say, in a modern truck, the air going into the front comes out cleaner in the back."
Bernhard says Daimler continues to refine its alternative fuel technologies, but he was unwilling to sacrifice the company's diesel efforts in that pursuit.
"My alternative fuel is diesel," he says, noting he was doubtful any fuel would "in the near future" fully displace diesel.