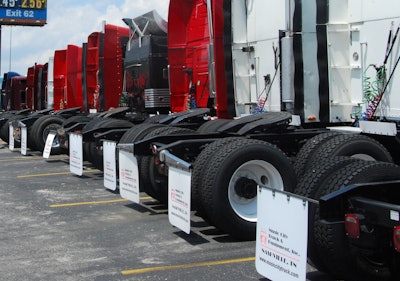 Class 8 orders in March were solid again in March, rounding out a quarter that points toward a growth cycle for truck sales, according to data released last week by firms FTR and ACT Research.
FTR has the monthly Class 8 orders pegged at 27,139 in its prelim numbers, pushing 2014's first quarter orders to 35 percent better than the same quarter last year, FTR says.
Likewise, ACT reports March's Class 8 orders 27,400. March's order total was 24 percent higher than the same month in 2013, per ACT, and first quarter orders come to an annualized rate of 353,000 orders, on a seasonally adjusted basis, says ACT President Kenny Vieth.
Vieth said that though Class 8 orders in March were the lowest since November, March was still the sixth best month since early 2006 for oders.
FTR reports that the last six months of order activity annualize 337,000, which FTR President of Commercial Vehicles Don Ake said "is a great order total."
"The market is maintaining strength and confirms we are in a solid growth cycle. OEM's are expected to increase build rates in response to their growing backlog."