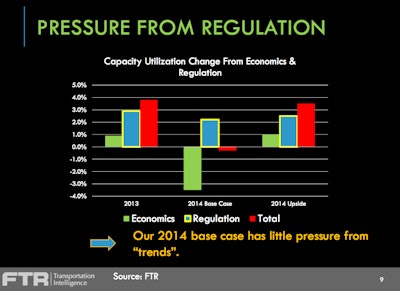 The truck supply is running close to 100 percent utilization, and any combination of freight growth, productivity-draining regulations and bad weather makes for a capacity crisis, says economist Noël Perry, senior consultant with FTR Transportation Intelligence.
And guess what: The trucking industry is facing at least two of the three factors for the next couple of quarters.
That's not good news for shippers, and carriers can expect to make good on some substantial rate increases in 2014, as Perry explained in FTR's latest State of Freight webinar on capacity and pricing.
"It's very important to be wary about what's going on in the marketplace this year," Perry cautions.
Perry's key slides and commentary are below.