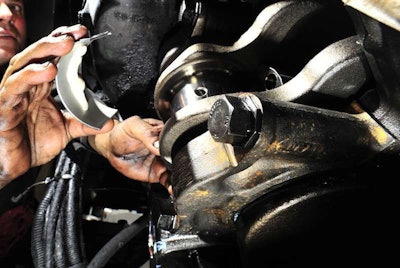 Just like the driver shortage plaguing trucking fleets and projected to worsen in the next decade, so too does the industry face a growing need for truck mechanics.
CCJ sister site Successful Dealer Editor Jason Cannon has put together a four-part series examining in-depth the shortage, tech school numbers and how the labor pool is changing.
The trucking industry could face a technician shortage as large as 200,000, say sources in the piece, and the Department of Labor predicts the current 1 million jobs in auto, diesel and collision repair industries to grow 17 percent by 2020.
However, only about 3,500 diesel and truck techs enter the labor market through schools each year — not nearly enough to keep up with growth and demand.
Here are the links to each of the Successful Dealer stories:
Technicians Wanted: A large and growing problem — This piece lays out the hard numbers on the technician shortage and why it's becoming a problem.
Part II: Schools can't keep up with demand — Tech school managers say they can place 100 percent of graduates in jobs, but the problem is the schools are at capacity. But demand for workers is so great that lots of times, students are plucked out of the programs by shops or dealers before they can graduate.
Part III: The changing face of tech candidates — No longer are technicians green faces right out of high school. More and more, they're older than they used to be — maybe even with a college degree — looking to change careers or pursue a more hands-on job. Demand for mechanics is also driving workers from other fields into tech schools.
Part IV: Dealers compete to recruit, develop diesel techs — Also like the driver shortage, those in the position of needing workers — in this case, dealers — are in fierce competition with one another to attract and hire mechanics.