I don't need much of an excuse to visit San Francisco, and I took advantage of the chance to spend a week in Northern California earlier this month.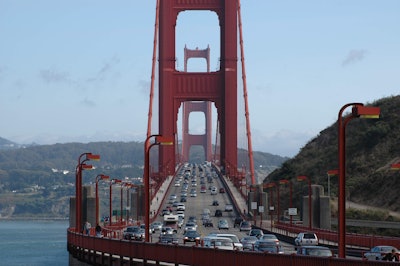 In making the rounds, my chats ranged from the Petaluma owner-operator who's organizing opposition to the CARB crackdown on older trucks, to the Stanford PhD who's using high tech to link trucks on the highway, allowing them to pair up and take advantage of improved fuel efficiency by running together more closely – and more safely. (And more to come on this.)
I also happened to stumble upon the Candlestick Park parking lot Amazon.com uses to stage its green Amazon Fresh grocery delivery fleet, only to have the Wall Street Journal scoop me on the additional presence of a number of unmarked rental vans. These represent the early stages on Amazon's own "last-mile" program that could become a logistics rival to UPS and FedEx. (More on this on CCJ's sister site, HardWorkingTrucks.com.)
Simply, the roster of trucking industry innovators in Silicon Valley is impressive (and too lengthy to list), and this bodes very well indeed.
I'd move to Sonoma County in a heartbeat, and if you asked nicely I'd certainly consider a place in the hills above the Peninsula. Of course, I'd need a seven-figure paycheck, and I'm open to offers. In my book, the sun and sea, the mountains and desert outweigh the threat of earthquakes and drought, of seasonal fires and mudslides.
But that's me, personally. For business, California is different matter. Of course, like the geography, with some 40 million residents the market is too tempting to ignore. But policy makers seem determined to keep business out.
CNBC ranked California #47 in the survey, "America's Top States for Doing Business 2013"– and that's despite its being #1 in access to capital and #2 in technology and innovation. The state lost a lot of points, clearly, by being ranked last in the cost of doing business, #48 in business friendliness and #45 in the cost of living.
And California came in at #46 in the recent "State Fiscal Condition Index" by George Mason University.
"Although the ranking is a snapshot in time, the states at the bottom are there due to years of poor financial management decisions, bad economic conditions, or a combination of the two," the report explains.
In another recent GMU report, "Freedom in the 50 States," California ranks #49 in the measure of fiscal, personal and regulatory freedoms.
To find out how this impacts carriers, I talked with Shawn Yadon, CEO of the California Trucking Association.
Not surprisingly, the top concerns of the membership are not so different from state associations around the country – just more so.
"The independent contractor model has always been front-and-center in California," Yadon says.
Among the most recent "trials and tribulations" and "assault" on the model by special interests, he's particularly bothered by "The Big Rig Overhaul," a report sponsored by the National Employment Law Project, the Change to Win Strategic Organizing Center and the Los Angeles Alliance for a New Economy.
In the report, the pro-labor advocacy groups contend the IC model as it is applied to port drayage drivers is often an illegal form of worker misclassification that results in "dire working conditions."
But Yadon's concern is that the issues brought up in the report will have a broader impact on the trucking industry — and not just in California.
"That report aims at the majority of owner-operators, that they're being robbed of fair compensation. From an industry standpoint, we absolutely disagree," Yadon says. "There's quite a bit of misleading information put forth in that report. From CTA's standpoint, we educate our members about the proper application of the independent contractor model. But this report would have you believe that the majority of IC situations are misclassifications."
Among the statistics, CTA points out that independent contractors commonly earn more – not less – than similarly situated employee drivers, and that most owner-ops had worked previously as employees, but chose to become contactors – and preferred to continue working as such.
"They're clearly independent contractors because they want to be, because of the opportunity and flexibility it provides to them," he says. "It's important for us as an industry to protect a model that's been in place for 75-plus years. It's the spirit of entrepreneurship for someone to start with that one truck and grow the business if they so chose."
Yadon's complete response to the report is here, in an op-ed prepared by CTA.
Also of immediate concern to CTA, the regulatory agenda of the California Air Resources Board takes up a great deal of association's attention, both in terms of protecting members and keeping them educated on evolving environmental requirements.
As someone who remembers playing a pick-up basketball game in LA and not being able to breath in the 1970s, I wonder if the regs might be worth the effort. And while Yadon agrees that tremendous progress has been made, he worries that regulators might go too far, including recent talk of "zero-emissions" vehicles.
"We've tried to take a leadership role in terms of technologies and compliance. Now we're really just talking about fine tuning. We're going to continue to work closely with CARB," Yadon says. "We have to ensure that the trucking industry has a voice on an ongoing basis – which we do."
And, as with the rest of the nation, California struggles to maintain and expand its transportation infrastructure to meet demand.
"There are a lot of projects on the wish list. There are monies taken from the weight fees that truckers are paying into the system that we would like to see appropriately allocated back into infrastructure," Yadon says. "That's to the tune of a billion dollars, so if we could see it happen, that would be a good start."