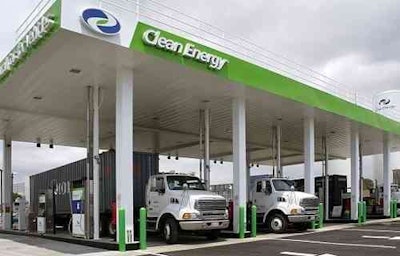 Clean Energy Fuels announced agreements with Kroger and Cardenas Markets, a Hispanic grocery chain, as the natural gas fuel provider continues to grow its portfolio of fleet customers.
As part of its agreement with Kroger, Clean Energy will design a liquefied natural gas station in Clackamas, Ore. The grocery store chain announced it will replace 40 diesel trucks in its fleet with LNG-powered trucks and tractors to serve markets in Oregon and Washington.
"This is the first step in Kroger's effort to transition our fleet to alternative fuels," said Kevin Dougherty, Kroger's group vice president and chief supply chain officer. "Converting to LNG trucks will allow us to reinvest savings into lower prices for our customers while also benefitting the environment."
In addition, Clean Energy's Facility Modification team will engineer and implement the necessary modifications to bring Kroger's four vehicle maintenance bays in Clackamas into code compliance for natural gas vehicles.
In a separate agreement, Clean Energy said Cardenas will deploy 15 heavy-duty compressed natural gas-powered trucks and will fuel throughout Clean Energy's network in California and Nevada, eventually consuming approximately 300,000 diesel gallon equivalents of CNG annually.
Cardenas plans to convert its entire 50-truck fleet to CNG power in the near future.