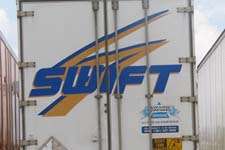 The International Brotherhood of Teamsters wants Swift Transportation shareholders to vote in favor of equalizing stockholder voting power.
The union, which owns 325 shares of common stock, wants stockholders to support its plan to change Swift's dual class stock structure at the company's annual meeting May 8. It would require Swift's board to retain an investment banker to develop a recapitalization plan. Under this new structure, shareholders would receive one vote per share for all outstanding common stock.
Currently, there are 87,309,116 outstanding shares of Class A common stock and 52,495,236 outstanding shares of non-trading Class B common stock. Class A common stock holders represent 62 percent of Swift's equity base and possess one voter per share, while those who own non-trading Class B common stock have two votes per share.
Swift's board opposes changing the current capital structure because it says it promotes long-term stability and has existed since the company's initial public offering in 2010.
Dual class stock structures are not uncommon, but controversial, as shareholders hold equal economic interest but unequal voting rights.
CEO Jerry Moyes, along with family trusts and affiliates, owns almost 35 percent of the Class B and 2.2 percent of Class A shares. This allows Moyes "majority voting control despite holding a minority of outstanding shares," the Teamsters stated.
The union notes that Institutional Shareholder Services Inc. has advocated shareholders withhold votes from incumbent audit board members for the second consecutive year.
ISS has voiced concern about what the Teamsters describe as Moyes' "excessive pledging of stock as collateral for personal loans." The company recommends withholding support from these independent Swift directors because audit members have a duty to protect against financial risk and conflicts of interest, the union said.