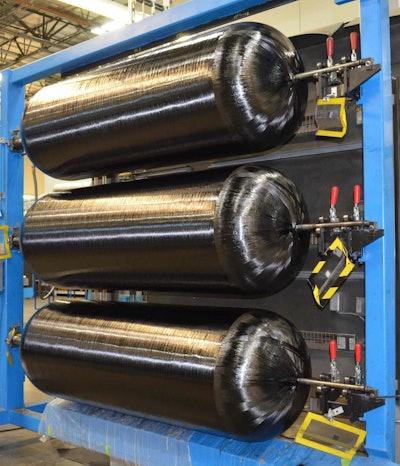 Ryder System and Quantum Fuel Systems Technologies Worldwide announced a long-term agreement for the purchase and supply of complete compressed natural gas fuel systems Ryder's CNG truck lease customers. Ryder will purchase Quantum's Q-Lite CNG tank systems and install them onto CNG-powered vehicles.
By purchasing the systems direct, Ryder says it can pass savings onto its lease customers, ultimately delivering a faster return on investment for this natural gas vehicle technology. Ryder will be the first transportation company to use Quantum's OEM-quality CNG systems on a national scale. In addition to the purchasing agreement, Quantum and Ryder will work together to improve future fuel system designs for commercial truck applications.
"Next to the limited commercial fuel infrastructure, the biggest barrier to the broad adoption of natural gas vehicles is the initial cost of the technology," said Ryder President of Global Fleet Management Solutions, Dennis Cooke. "This relationship will help make compressed natural gas vehicles more affordable and reliable, so more businesses can take advantage of their environmental and efficiency benefits."
Quantum's lightweight, high-capacity Q-Lite CNG tank system is designed for heavy payload applications where weight saving is essential. Quantum says the adaptable model design is ideal for medium and heavy duty trucks. Ryder's maintenance team has worked with Quantum to develop comprehensive procedures to ensure that tank system installations will meet the highest industry standards.
"With Ryder, we can bring our leading-edge natural gas tank storage and system technology to a larger base of businesses that are looking to improve efficiencies, save on fueling costs, and get better performance from their natural gas fleets," said Brian Olson, president and CEO of Quantum. "Our Q-Lite natural gas storage module is gaining increasing market attention due to its storage efficiency and light weight characteristics that help to improve performance and increase fuel range in commercial trucking applications."