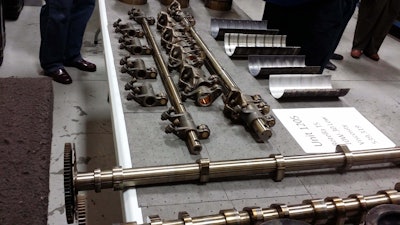 Can the fuel economy and emissions reductions benefits of lower viscosity engine oil — thinner oil, essentially — be realized without sacrificing durability and, thus, engine life?
It's a question that's faced oil makers since development of the next category of heavy duty engine oils began in 2011, and it's a concern Shell Rotella wanted to slam the door on at a special engine teardown event held this week in Greensboro, N.C.
Engineers and teardown specialists from the lubricant maker had on display Wednesday at Clarke Power in Greensboro parts like pistons, cylinders and cam shafts from three engines that Shell had run field trials with in recent years.
One of the engines had used exclusively the current conventional lubricant, 15W-40, and one used exclusively a slightly lower viscosity oil, Shell Rotella T5 10W-30, that's available on the market today as part of the current CJ-4 oil category.
The third engine used a lubricant that's part of the next-gen Proposed Category 11 oils, a 10W-30 low viscosity oil.
The parts of the engines were not labeled, and Shell representatives turned the display into a guessing game, challenging those in attendance — mostly trucking journalists — to choose which parts belonged to the engine running the low viscosity 10W-30.
None truly did, as those who chose correctly admittedly said they did so based on chance.
The results of the try-to-pick-it game drove home a point Shell made throughout the event about the durability concerns surrounding low viscosity oils: There shouldn't be any.
"We wanted to see if we could get the same level of protection out of this experimental oil as we got out of our reference oil, and from the looks of things I think we were successful," said Howard Hill, an engineer with Shell and a teardown specialist.
The engines used in the field trial were 2011 and 2012 425-hp Detroit DD15s, all run in Freightliner Cascadia tractors for a roughly 30-truck fleet based in North Carolina.
Each had more than 500,000 miles, and the engine using the low viscosity 10W-30 had nearly 540,000. The oils used 50,000-mile oil drain intervals, and the trucks were driven about 250,000 miles per year in team operations.
And beyond simple eyeball inspection of the parts from the teardown, Shell pointed to both expert inspections and oil analyses to further backup its testing conclusions: Matt Urbanak, lead formulator for Shell Rotella heavy duty engine oils, said there was no discernible difference in wear between the three oils, based on their in-depth inspections.
There was also no difference in iron wear, chromium, lead, copper or aluminum in oil analysis.
"Testing does indicate that [low viscosity] oils do maintain engine durability," he said.
Beyond the three engines used in the teardown, Urbanak says Shell has 16 million miles of field testing so far on low-viscosity oils, and still roughly two years remain before the oils will go to market.
**
Shell also used the event to give a timeline update on the development of PC-11, and Shell's OEM Technical Manager Dan Arcy says the development team is shooting for April 2016 as the go-to-market date.
The new development team is made of members from engine makers, truck makers, oil marketers, additive companies and others in the industry, Arcy said, and a few steps remain — including approval of the tests that will be used to validate PC-11 — before American Petroleum Institute licensing begins.
PC-11 was originally requested by engine makers in 2011 in response to the industry's mandate to reduce greenhouse gas emissions and lower fuel consumption. Modern engines also are running hotter — as much as 10 degrees Celsius, Arcy said — than older engines, and a new oil category was needed to reflect the changes, Arcy noted.
The key PC-11 goals are to improve oxidation stability (basically, handle the hotter engine temps), reduce aeration, provide scuffing and adhesive wear protection and improve shear stability.
There are two subcategories to PC-11: PC-11A and PC-11B.
PC-11A will have the aforementioned improvements to the current CJ-4 engine oil, but it will retain the viscosity level of CJ-4. It will be backwards compatible with all year-model engines.
PC-11B will also have the requested improvements over CJ-4, but it will also increase fuel economy and in turn lower greenhouse gas emissions, Arcy said. It's uncertain yet whether the oil will be backwards compatible, and may only be recommended by manufacturers for year-model 2017 and newer engines.
Arcy said Shell will back up whatever recommendations manufacturers make about the backwards compatibility regarding PC-11B.