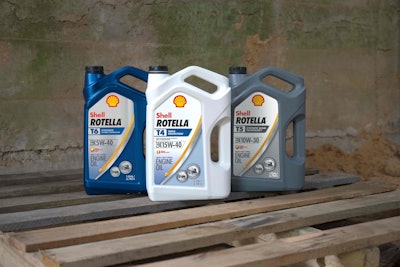 Shell Lubricants on July 19 announced the next generation of its Rotella heavy-duty diesel engine oils — the CK-4 Rotella T4 15W-40 and the low-viscosity FA-4 T5 10W-30. The new lubricants, part of a new oil category in development since 2011, come in response to tightening emissions standards, demand for greater fuel efficiency and evolving needs of modern engines, Shell says. The unveiling came at an industry press event held in Washington, D.C., this week.
The new Rotella products will come to market in December 2016, when American Petroleum Institute licensing for the CK-4 and FA-4 categories is scheduled to begin.
The CK-4 Rotella products will replace the current CJ-4 Rotella oils used today and work with engines of all ages.
The FA-4 products are designed for year-model 2017 and later engines and will have limited backwards compatibility. FA-4 was developed as part of the industry-wide push to meet the next round of fuel economy and greenhouse gas emissions regulations, which go into effect for model-year 2017 engines. The lower-viscosity FA-4 oils — which are slightly "thinner" than CK-4 oils — could improve fuel economy by about 2 percent when compared to current CJ-4 oils, Shell says. Moreover, there's no trade off in durability of the oil or its ability to protect engines, says Shell's Global OEM Technical Manager Dan Arcy.
"There will be no compromise with Shell products in performance or durability," Arcy says. "Our customers are used to getting a million miles out of their engines." Shell's new oils will maintain that expectation, he says.
For end users like fleets and owner-operators, deciding which new oil to use is simple. If fleets run 2016 model-year engines and earlier, they'll stick with CK-4 oils. If they run 2017 model-year engines, CK-4 can be used, but FA-4 oils will be recommended due to their ability to boost fuel efficiency. Engine manufacturers will be making formal recommendations regarding CK-4 vs. FA-4 use this year, however, and some may OK use in engines older than 2017. Shell says it will defer to manufacturers for recommendations on which oil end users should use.
Shell will be rolling out new branding and new packaging starting in August and continuing into December corresponding with the release of the new CK-4 and FA-4 products. Shell's FA-4 Rotella products will be differentiated with heavy use of the color red on its packaging and branding materials (red bottle caps, for instance, and heavy red trim) and via nomenclature: Rotella FA-4 oils will include "Ultra" in the name, while CK-4 oils will not.
Shell has also unveiled an updated Rotella.com website, where it will soon offer a chart to help customers determine the oil most appropriate for their application. The company also has several webinars planned late this summer and the fall to help educate oil buyers on the new CK-4 and FA-4 products, their application and their benefits.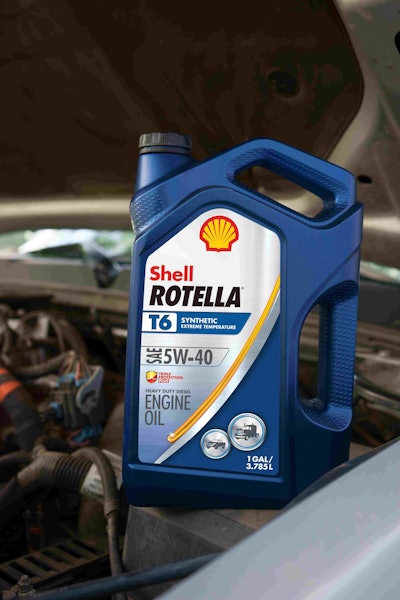 Though regulatory-driven fuel efficiency and GHG emissions standards were the key spurs for the development of the new CK-4 and FA-4 lubricants, several other major factors played in too.
Improved oxidation stability, the ability to handle hotter engines, reductions in aeration and improvements in shear stability (scuffing, essentially) were needed for lubricants, says Arcy. Changing engine structure and design drove those needs, he says. New performance standards tests were created by the API development committee for the new oils to address these improvements, Arcy says.
Shell in the July 19 unveiling of the new products again touted the tens of millions of miles of real-world field tests it has performed using CK-4 and FA-4 Rotella lubricants in recent years.
Since mid-2013, Shell Lubricants has conducted 40 million miles of on-highway testing with certain fleet partners across engine and truck makes and models. In those field trials, engine teardowns done after hundreds of thousands of miles show no difference in engine wear or oil analysis when comparing CK-4 and FA-4 oils to CJ-4 oils used in the same truck and engine setup for the same fleet in the same operation, says Shell's lead Rotella formulator Matt Urbanak.
Urbanak also noted the thousands of hours that went into a bevy of lab tests Shell conducted on its CK-4 and FA-4 products and their ability to protest engine components.
CK-4 and FA-4 oils have been in the works since June 2011, when a coalition of truck makers approached oil marketers and requested a new oil category.
The Proposed Category 11, or PC-11 as it's been referred to in recent years, was the result. The CK-4 and FA-4 designations were assigned last year (replacing the PC-11 designation), following the finalization of the new specifications for the oils and their associated performance standards.