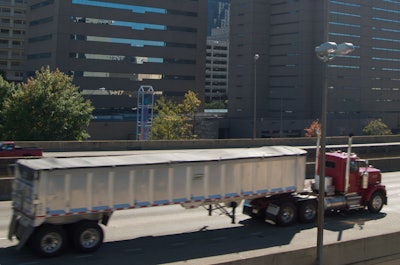 The U.S. Federal Reserve reported trucking and the overall economy showed improvement throughout much of the nation since March.
Last month, it published its most recent Beige Book, a summary of findings from the Fed's 12 service districts. Eight times a year, the Fed publishes reports from anecdotal information it gathers from sources such as bank directors, key business contacts and market experts.
Most regions witnessed a transportation upswing, with ports and trucking reporting volume increases. "Even in districts where transportation was soft, the outlook was optimistic," it stated.
In most districts, manufacturing and most industry sectors showed advancement and wage pressures were generally contained or minimal. The Fed received mixed reports for agriculture because weather disruptions delayed plantings and shipments.
In Richmond, Va., a national freight trucking company said shipments have increased markedly in recent weeks partly because of "catching up." The harsh winter prevented many deliveries and pre-loaded trucks could not leave warehouses because no one was present to release the freight.
In Atlanta's district, weather significantly hurt trucking in January. But trucking companies reported difficulty finding drivers in the face of notable tonnage increases and strong freight volumes.
Its ports were especially upbeat because of hikes in energy exports, shipments of bulk agricultural commodities and record container volumes. The region's ports received significant capital expenditures for expansion and infrastructure, reported America's central bank.
Kansas City's district reported a need for more truckers. The region's construction-related manufacturers said they had to hike truck driver pay and one oilfield services firm reported definite wage increases.