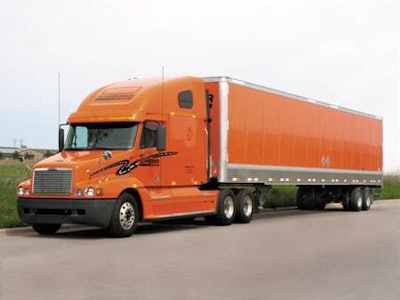 The number 13 is typically associated with bad luck, but that's certainly not the case for Schneider when it comes to its 2013 cargo theft results. Instead, the premier truckload, intermodal and logistics provider is celebrating a lucky number: the seventh consecutive year of declining cargo thefts and a 20 percent decline in truckload thefts.
CargoNet, a prominent authority on freight security, issued its 2013 Annual U.S. Cargo Theft Report earlier this year. The report indicated that the overall number of stolen freight incidents that occurred throughout the U.S. decreased by 9 percent last year – the first time the industry has seen a decrease since CargoNet began tracking data in 2009. While this is good news for the industry as a whole, it magnifies Schneider's remarkable achievements in this space. Since 2006, Schneider has achieved a 91 percent decline of truckload thefts.
Schneider attributes its seven-year streak of beating the industry's average cargo theft incident rate to its proven security methods. These include proactive communication with shippers, Schneider drivers and owner-operators, as well as disciplined standard operating procedures and top-notch technology, says the company's director of Safety and Enterprise Security, Walter Fountain, CPP, CCSP. Another invaluable component of the company's security plan is its flexibility to move high-value loads using driver teams, which creates velocity in the supply chain and ensures freight is continually moving and far less susceptible to theft.
Fountain also stresses the importance of preparing and educating drivers and owner-operators. "Ours is a three-prong approach: We address expectations during onboarding; we regularly communicate the locations and types of thefts that are occurring; and we incorporate cargo theft preventable measures into our quarterly training sessions."
The combination of Schneider's procedures and technology investments provide the foundation of the company's success in achieving lower cargo theft results. "Perhaps correlated to our declining number of thefts this year is the implementation of Schneider's prenotification system," explains Fountain. "Using the company's new geo-fencing technology, drivers are alerted when they enter an area with higher reports of theft. The system then notifies drivers of safer alternative places to fuel and rest within the area."
The result is fewer Schneider drivers entering high-risk theft areas in exchange for fueling up and resting at Schneider operating centers or secure truck stops. It also means a 37 percent decrease in total value per load theft.
"Schneider teaches you to do everything you can to keep people honest," says Schneider Van-Truckload driver Jim Bosma. "A lazy thief is just trying to get the easiest opportunity, so with these processes and technologies in place, we deter them from carrying out a theft."
Drivers aren't the only ones impressed by Schneider's protocols. Industry authorities are also taking notice.
"In the transportation industry, cargo security protocols and procedures are unfortunately not as stringent as they should be," says CargoNet's Sal Marino, vice president of business development. "Schneider, however, clearly understands the value of putting in layers and redundancies in cargo security in order to strengthen their supply chain security program."