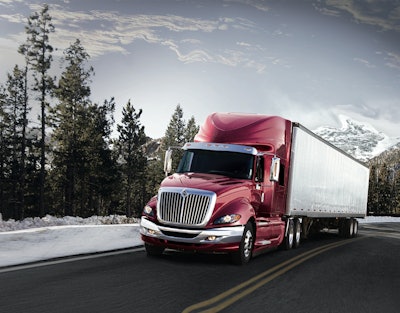 Navistar International Corporation announced Thursday a second quarter 2014 net loss of $297 million on revenues of $2.7 billion. That marks an improvement over 2013′s second quarter's $374 million net loss on revenues of $2.5 billion.
Second quarter highlights include sequential and year-over-year improvements both in orders and retail market share for medium- and heavy-duty trucks, the company says. Medium-duty Class 6-7 retail market share was 26.4 percent for the quarter, up from 17.3 percent in the first quarter of 2014 and 25.8 percent in the second quarter of 2013.
Combined Class 8 retail market share was 14.9 percent for the quarter, up from 13.9 percent in the first quarter of 2014 and 14.5 percent in the second quarter of 2013. Navistar's combined Class 6-8 truck and bus retail market share for the second quarter was 18.5 percent, and the company ended the period with an order backlog 82 percent higher than this time one year ago, it said.
"We continue to make progress with our 'Drive to Deliver' and we have seen a number of encouraging signs this quarter, including improvements in our market share and strong order backlog, positive trends in our warranty expense and spend, and higher than expected structural cost reductions," says Troy A. Clarke, Navistar president and chief executive officer. "This is the third consecutive quarter where we've met or exceeded our EBITDA guidance and we have now met or exceeded our cash guidance for seven straight quarters."
"We still have much work to do in our core North America operations as well as in Brazil, where we are taking actions to lower our breakeven point to offset the ongoing economic challenges in that country," Clarke added. "Overall, we feel good about our steady gains and positive momentum."
Last month, the company initiated additional restructuring activities in North America, which will be completed by the end of this fiscal year and are expected to generate $40 million in savings annually beginning in 2015.
Earlier in the quarter, Navistar announced its plans to consolidate mid-range engine manufacturing by idling its Huntsville, Ala. mid-range engine plant and moving production to Melrose Park, Ill. Those plans remain on track and once completed later this summer, are expected to reduce Navistar's operating costs by more than $22 million annually.
Navistar's warranty spending improved in the second quarter, down $23 million— or 13 percent — year-over-year. Clarke says the improvement was driven by lower costs per repair, fewer EGR engines in the warranty period and ongoing quality improvements for its EGR engines as well as new product launches with SCR engines.