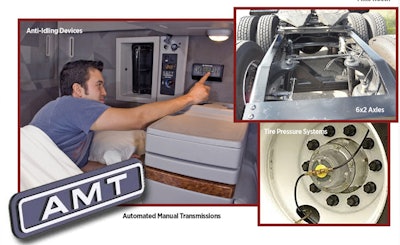 A few cents per mile in operational efficiency is the difference between profit and loss for a trucking company, and the market is full of promising technology and technology vendors with promises. But what works, and what doesn't?
The next Trucking Efficiency workshop, third in a series of presentations on the latest developments in fuel-saving tech, is set for June 26 at the Clinton Presidential Center in Little Rock.
Sponsored by the North American Council for Freight Efficiency and the Carbon War Room, the workshops are designed to bring together leaders in the trucking industry to discuss and debate the advantages and disadvantages of adopting various technologies.
Equipment manufacturers, fleets and test organizations are all represented in the series, geared to improving the efficiency of tractor-trailers and cutting fuel bills "significantly."
"Fleets are finding great value in these Trucking Efficiency events," says Mike Roeth, NACFE executive director and CWR trucking lead. "It's a 'safe place' for them to share what's working and not, while engaging with truck and trailer builders and technology manufacturers in a facilitated planned agenda."
Featured technologies on the agenda for the upcoming workshop include
6×2 axles
idle reduction systems
automated transmissions, and
tire pressure systems.
Former Transportation Secretary Rodney Slater will deliver the keynote address.
The keynote will be followed by an industry-leader dialogue on the pluses and minuses of implementing innovative technology moderated by CCJ Senior Editor Kevin Jones, a walk-around of various vendor exhibits and a break-out into small group discussions focused on the featured systems.
"The challenges of high fuel prices, energy security and environmental sustainability requires us to work together: fleets, manufacturers, NGOs, etc., in an all-new way," says Mike O'Connell, senior director supply chain fleet, Frito Lay. "This forum provides just that opportunity."
More information on the NACFE Trucking Efficiency workshop, including the agenda and registration form, is available here.