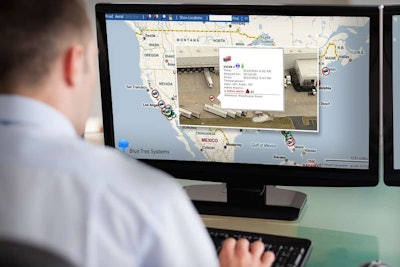 The odds always have been stacked against using technology to track and monitor trailers.
Exterior-mounted devices are exposed to a harsh environment. Power also is a formidable foe, as batteries are drained quickly by receiving and attenuating signals constantly from the Global Positioning System, as well as from transmitting messages to satellites or cellular towers and sensors surrounding the vehicle.
Fleets are unforgiving if dead batteries or anything else stands in their way of receiving timely, reliable and accurate information. On top of this, they expect to spend a fraction on the technology compared to their onboard computing and communications systems.
Despite these and other obstacles, a number of companies have beaten the odds, but it has not been always easy. Looking back, the first generation of self-contained or "untethered" trailer tracking systems was severely limited by the need to conserve power. Meanwhile, tethered systems powered by the tractor were fairly expensive and difficult to install.
Cellular and satellite communication platforms have since expanded their bandwidth and coverage. The hardware and rechargeable power sources, including solar panels, have become more reliable, compact and ruggedized.
In general, these five developments – most of which have happened in the past two years – have helped put trailer tracking and monitoring systems on the fast track forward.
1. Battery power
As demand grew for more frequent reporting of location, mileage and trailer activity, vendors began offering rechargeable batteries that draw power from the trailer's ABS system through the 7-way connector (J560). When disconnected, batteries can provide uninterrupted coverage for several weeks. Systems that monitor temperature and other conditions draw power from the reefer unit.
Spireon's FleetLocate tracking platform uses a redundant power supply. If the ABS line goes down, its hardware draws power from the trailer's running lights.
Orbcomm's GT 1100, a rugged tracking device with an integrated solar panel, can report trailer location and other status information 50 times through a dual-mode satellite and cellular modem for each hour of sunlight it absorbs.
2. Expanded information
Technology providers today are focused on differentiating themselves by providing more frequent, robust and tailored reporting capabilities.
"The decision today is a lot more about the data that the customer wants to get from the system and how a particular company is able to deliver that," says Henry Popplewell, executive vice president and general manager of SkyBitz.
During the past year, fleets interested in trailer tracking have lined up in two distinct groups, Popplewell says. The first is content with knowing the location of trailers once or twice per day. The second, and fastest-growing, wants frequent reporting of location, mileage, speed and other information, along with sophisticated tools to analyze it quickly.
SkyBitz has a robust analytics tool in its customer Web portal, Insight, which allows users to view data trends for select time periods. The tool can be used to monitor trailer commitments with customers by location.
Spireon's FleetLocate platform captures GPS locations every second and reports every 10 minutes. The cloud-based management portal also includes business intelligence tools such as the Par trend analysis report that allows users to compare and monitor trailer count, by location, to an established baseline each day and over time.
The Par report was developed in consultation with Coca-Cola Bottling Co. Consolidated, which wanted to decrease the expense of leasing trailers and ensure that trailer capacity matched daily production at each distribution center.
3. Software as a service
The upfront cost of trailer tracking hardware – between $400 and $600, with monthly wireless costs of about $15 – used to be a barrier for companies. SkyBitz and Spireon both have adopted Software-as-a-Service models designed to allow fleets to deploy technology without an upfront capital investment.
After SkyBitz was purchased last year by private equity investment group Telular, the companies mutually determined that data was key to the future of the trailer tracking business, Popplewell says. With SkyBitz's new service platform, it provides the hardware and all ongoing maintenance for a monthly fee.
"We realized that when people go out and buy a new trailer, they plan to run it for 10 to 12 years," Popplewell says. "They do not want to be worried about hardware that is going to last five or six years. They want it to last the life of the trailer."
4. Data integration
Data collected from trailer tracking systems, when added to the stream from other sources, easily can get buried in a pile of to-do lists. Big strides have been made to integrate the data into one portal for fleets' native transportation management systems.
CarrierWeb offers fleet management systems for both tractor and trailer assets. The information from each system can be viewed through a single configurable portal for TMS integration. Its reefer tracking system, ReeferMate, captures a broad range of minute-by-minute data and reports once every hour when under power.
Through an integration with McLeod Software's LoadMaster TMS, CarrierWeb sends any truck and trailer data it has captured during a 60-second timeframe. LoadMaster matches the GPS records of trucks and trailers within 9 meters to determine which tractors are hitched to which trailers, says Norman Thomas, vice president of commercial operations for CarrierWeb.
Isotrak, based in the United Kingdom, began to focus heavily in North America in 2013. About 95 percent of all U.K. groceries are transported on Isotrak-equipped vehicles by some of the largest global retailers.
The company's ATMSi cloud-based platform manages telematics data from both the tractor and trailer. Information such as trailer temperature or reefer fuel level can be displayed on a dashboard alongside other critical areas such as hours-of-service compliance, says Cliff Koutsky, vice president of business development.
Click here to see a written case study and here to see a video of how Papa John's Food Service uses Isotrak to improve the performance of its fleet of more than 140 trucks and trailers that make 6,000 weekly deliveries to Papa John's restaurants and franchisees.
BlueTree Systems offers a standard interface for both its onboard computing and trailer monitoring systems that provides fleet managers with real-time status and alerts concerning temperatures and reefer operation.
Orbcomm has its own network of satellites, builds its own hardware to track any type of asset and creates its own cloud-based portals. The company acquired two of the largest providers of cold-chain trailer tracking systems, StarTrak and Par Logistics.
One reason for these acquisitions and others was that Orbcomm saw an advantage to connecting fleets to all of their assets in diversified lines of business – flatbed, reefer, intermodal, dry van, etc. – through one portal.
5. Multimode communications
From the beginning, trailer tracking systems have used cellular or satellite modems. Fleets used to have to decide between broader but more expensive satellite coverage and more economical cellular options.
Today, the cost of satellite communication has dropped to about a 20 percent premium of cellular. Orbcomm launched its next-generation OG2 satellite network designed to deliver about 30 times the bandwidth at a lower cost than its OG1 network.
The company has designed its tracking devices to use both cellular and satellite modems compatible with the Inmarsat network, much like the roaming agreements for terrestrial networks.
In 2013, telematics research and consulting firm Clem Driscoll and Associates found that one-third of carriers without a trailer tracking system were interesting in having the technology to know the status and location of their assets. Given recent advancements and lower upfront costs, their waiting periods soon may come to an end.
CLICK here to view a photo gallery and summary of the latest offerings.