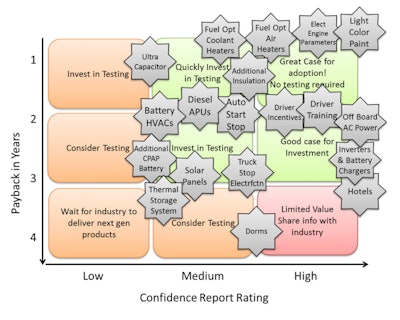 (All graphics courtesy of the North American Council for Freight Efficiency)
Taking a look at an industry-wide problem for which there are known – though not yet widely adopted – solutions, Operation Trucking Efficiency has published a new Confidence Report on idle-reduction technologies and trends.
Trucking Efficiency is a joint effort between the North American Council for Freight Efficiency and the Carbon War Room with a goal to double freight efficiency by 2016 through the elimination of market barriers to information, demand and supply.
The team has published a series of trucking reports designed to be objective and unbiased, and which document the strengths and weaknesses of various solutions and offer end-user perspectives.
Indeed, the new report finds that the variety of idle-reduction options on the market currently poses a major barrier to their adoption, as fleets struggle to determine which technology will best meet their needs and how best to implement an overall idle-reduction strategy.
"Our Confidence Report is centered around embracing all the different aspects of idle reduction and trying to bring it into one consolidated picture," says Dave Schaller, NACFE program manager and a member of the study team. "We can provide the insight that the industry needs as it moves into the future."
[youtube 0sBQV2Dt85g nolink]
The report also includes a detailed list of manufacturers, spec sheets and links to useful tools such as payback calculators, regulations and grant opportunities.
The team notes that the field of idle-reduction technologies is a "constantly and rapidly evolving one."
On the horizon, the report points to a range of possible improvements to help form a more complete idle-reduction solution:
Improved cab sealing and insulation
Sleeper cab humidity controls
Solar-reflective paint
Natural gas powered heaters and APUs
Fuel cell powered APUs
"Failure-friendly" diagnostics and options
Parking and Truck Stop Electrification availability notifications
Fuel Tax Credits for APUs
A "mindset shift" which places greater importance on lifecycle sustainability; and
On- and off-board solar charging systems and renewable energy grid dependence.
Looking even further into the future, the report finds that:
• If intermodal freight continues to grow and short haul continues to cut into long haul, sleeper use could decline dramatically, making the construction of hotels and dormitories critical to such a transition.
"This vision probably makes driving a truck more appealing to future generations of drivers who have little desire to sleep in their vehicles," it says.
• The use of off-board power could become easier if the wireless induction technologies now being introduced for hybrid and electric transit buses enter the Class 8 tractor-trailer parking facilities.
With such systems a truck would be able to park directly over a wireless power connection and run all of its on-board systems, but with no cables to plug in and no need to exit the vehicle at all.
The full report is available here.
NACFE also has published Confidence Reports on tire pressure systems and 6×2 axles, and has upcoming releases on automated transmissions and driver coaching aids.
[envira-gallery id="115423″]