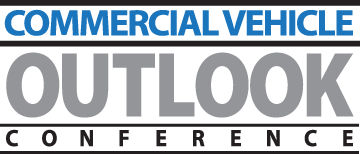 Randall-Reilly, publisher of CCJ magazine, has announced the agenda and speakers for the Commercial Vehicle Outlook Conference which will be held August 20-21, 2014, at the Kay Bailey Hutchinson Convention Center Dallas, in Dallas, Texas.
For a full agenda and registration information click here.
Carriers receive a $295 registration rate and can register up to 5 additional registrants for $245 at the time of registering. Registration includes all sessions, meals and a networking cocktail reception.
The agenda for the conference is as follows:
Wednesday August 20th, 1:15 p.m. 
Panel: How regulations, costs and reliability are changing the equipment life/trade cycle
During the last rounds of emissions standards, many fleets took a "wait-and-see" approach, extending their trade cycles to avoid the higher purchase price and reliability concerns of the new technologies for as long as possible. At the same time, many embraced fuel saving technologies for trucks and trailers to help offset higher operating costs. With new greenhouse gas and fuel efficiency standards on the horizon, how will fleets respond? Will continued economic uncertainty affect when they trade their trucks and trailers?
Speakers:
• John Diez, Senior Vice President, Ryder
• Bruce Ewald, Senior Vice President of Sales and Marketing, Wabash National Trailer Center
• David Hames, General Manager of Marketing and Strategy, Daimler Trucks North America
Moderator and Q&A: Jack Roberts, Executive Editor, Commercial Carrier Journal