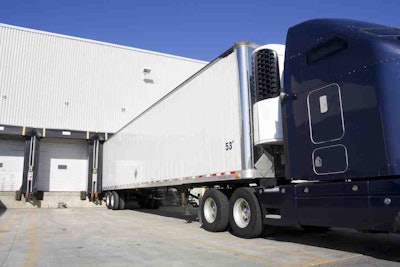 The economic outlook for the refrigerated sector of the trucking industry continues to be strong, according to John Larkin, managing director of Stifel Nicolaus, who provided an economic outlook speech at the Truckload Carriers Association's 31st Annual Refrigerated Division Conference in Park City, Utah. But the distribution landscape for refrigerated freight is changing, he says.
"As we focus more on fresh food, retailers are opting for regional sourcing," said Larkin. "We are seeing a more regionalized distribution network in the United States. Much of the long-haul refrigerated freight that exists is being moved to rail."
With continued trend growth in de-globalization, near-shoring and insourcing leading to a more of a balanced global trade picture, Larkin said the North American Free Trade Agreement will play bigger picture in food movement, representing more opportunities for refrigerated haulers.
Refrigerated haulers aren't immune from the driver shortage, and the pay gap between driver pay and other industry wages continues to widen. According to Larkin, the average W2 wage for a U.S. worker is $46,440, compared to only $40,940 for truck drivers.
"That's not sustainable," Larkin warned, but noted the driver shortage isn't solely a function of driver pay. "The truth is even fleets at the upper end of the pay scale are having trouble finding quality drivers. [Drivers] in Texas can go down to Eagle Ford and make $100,000 to $120,000 driving a water truck for the fracking industry."
Data from the American Trucking Associations shows industry-wide driver turnover hovering around 95 percent for large fleets. An increased demand for new drivers can be attributed to voluntary non-retirement departures (11 percent), retirements (37 percent), non-voluntary departures (16 percent) and industry growth and regulatory impact (36 percent).
Larkin also noted that the recent U.S. population trend toward re-urbanization also would impact freight movement in the next several years. Since 2005, multi-family dwellings have doubled on a percentage basis of housing construction starts – from 17 percent to 34 percent in 2013 – while there are two-thirds fewer housing starts in single-family starts during the same time period.
"As of 2013, half of the U.S. population lives in 145 counties in the United States," Larkin said.
The refrigerated truckload segment continues to do well when compared to other segments of the trucking industry. Larkin said that while dry-van truckload is still the dominant sector, it hasn't recovered to pre-recession levels, off roughly 10 percent. Meanwhile, the refrigerated sector is off only 3.9 percent from the pre-recession peak and was up 8.4 percent in May 2014 compared to May 2013.
Larkin said that while the refrigerated freight market shows strong statistics, some of that is a result of reduced supply more so than increased demand.
Meanwhile, refrigerated freight revenue per mile has risen to record highs. "I must compliment everyone in the room for stepping up and getting price increases," Larkin said, noting rate increases should continue through 2018 as new rules and regulations go into effect, creating even bigger opportunities to take rate increases.