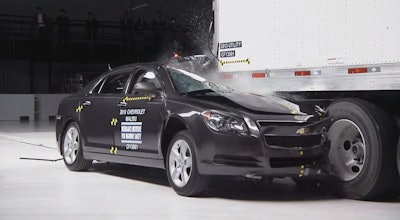 The National Highway Traffic Safety Administration will begin rulemaking to consider improving standards for rear impact or underride guards on trailers, semitrailers and single-unit trucks.
NHTSA said it would respond to a petition by the Truck Safety Coalition by issuing an Advanced Notice of Proposed Rulemaking for rear impact guards for single unit trucks and a Notice of Proposed Rulemaking concerning the guards on trailers and semitrailers.
The agency considered the petition, available information and NHTSA analysis in progress before granting the petition and will determine if a rule is needed after studying the issue and alternatives.
It also is evaluating the coalition's request for side guards and front override guards improvement, according to the agency's July 10 Federal Register notice.
The coalition had submitted additional correspondence requesting the U.S. safety standards for rear underride guards become equivalent to Canada's higher strength and energy absorption requirements.
Other coalition requests fell under the Federal Motor Carrier Safety Administration's jurisdiction. The NHTSA did not address the petition's requests for:
· An increase in minimum insurance liability limits for truck drivers.
· Improved hours-of-service enforcement and prevention of exemptions to HOS limits.
· Expediting the electronic logging devices final rule and implementation of the devices in trucks.
More information on the announcement is available by visitingwww.regulations.gov and entering the notice's docket number, NHTSA-2014-0080.