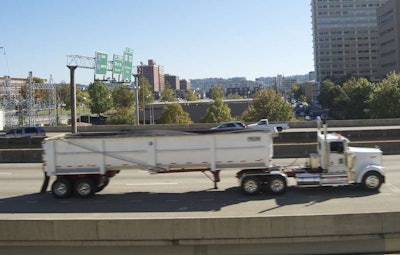 The National Transportation Safety Board is recommending that regulations be put in place to require new trucks to be equipped with systems to boost blind spot awareness and side and rear underride guards and to require that better data be collected on trailers involved in crashes.
NTSB made the recommendations last week to the National Highway Traffic Safety Administration, breaking the three general recommendations into seven specific recommendations in a letter from outgoing NTSB Chair Debora Hersman, who requested NHTSA respond within 90 days.
To prevent accidents caused by blind spots — particularly those involving what NTSB calls "vulnerable road users:" pedestrians, cyclists and motorcyclists — NTSB recommends that tractor-trailers with a GVWR of more than 26,000 pounds "be equipped with visibility enhancement systems."
NTSB is not specific about the systems, but in its report it does point to enhanced mirror systems (like crossover convex mirrors required in New York and in Europe), systems that alert drivers of vehicles in adjacent lanes during lane changes and camera and monitor systems that display to drivers rear blind spots when backing.
To protect passenger car drivers in the event of side impact — which NTSB says made up 15 percent of fatal two-vehicle crashes between a truck and a passenger car in 2011 — NTSB recommends that NHTSA require new trailers to be equipped with "side underride protection systems" like guards to prevent "intrusion" into passenger vehicles from trailers.
NTSB also recommends similar guards be required for trailer rears.
Lastly, NTSB makes three recommendations about collection of trailer data: (1) NHTSA add trailer VIN and model year to the Fatality Analysis Reporting System database, (2) add a field to include trailer license plate numbers in the next edition of the Model Minimum Uniform Crash Criteria Guideline and (3) add a field to include trailer VIN numbers in the next edition of the Model Minimum Uniform Crash Criteria Guideline.
Click here to see NTSB's full report.