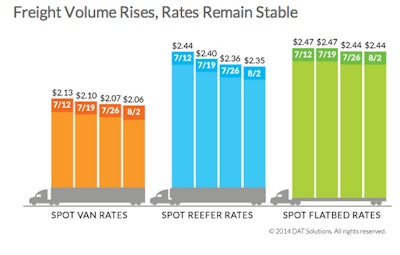 Key freight measures in July continued to show nice gains from this time last year, though the summer swoon is in full effect. Business leaders remain optimistic going forward. Here's a round-up of several reports.
• Truckload spot freight availability remained elevated in July compared to previous years, despite a seasonal dip, according to the DAT North American Freight Index.
Same-month volume was up 32 percent compared to 2013, when freight volume was unusually robust. Spot market volume typically peaks in June, and this year's seasonal contraction was only 11 percent in July, compared to the 10-year average decline of 19 percent, the DAT report notes.
Compared to July 2013, freight volume increased 40 percent for vans, 28 percent for reefers and 52 percent for flatbeds. The increased demand, together with capacity constraints, caused spot market truckload rates to rise year over year for all major equipment types: Van rates rose 15 percent, reefer rates were up 6.3 percent, and flatbed rates rose 15 percent compared to July 2013.
The month-over-month freight volume decline was likewise reflected in the three major equipment types: Van loads lost 15 percent, while reefer freight dropped 10 percent and flatbed volume declined 11 percent.
Spot truckload rates also declined slightly from June, with vans losing 1.3 percent and reefer rates dropping 3.6 percent from the June peak. Flatbed rates were up 0.5 percent as a national average in July.
• Intermodal traffic in July totaled 1,286,160 containers and trailers, up 5.5 percent (67,524 units) over July 2013, the Association of American Railroads reported.  The weekly average in July was 257,232 units, the highest for any July in history.
"The economy has had several so-called "false dawns" over the past few years, but based on current rail traffic levels, there's reason to be optimistic that this time the economy might start growing like it should," says AAR Senior Vice President John T. Gray.
• Indeed, 59 percent of private-company leaders are optimistic about U.S. economic prospects for the next 12 months, according to PwC US's latest Trendsetter Barometer.
The majority of these executives have felt upbeat about the domestic economy for a full year and a half. This confidence is translating into plans for major capital spending projects by more than one-third (36 percent) of Trendsetter companies, the highest number in over two years. The majority (56 percent) of survey respondents also plan to hire in the next 12 months, though in moderation.
"Despite the United States' weak GDP performance early this year, private businesses see resilience in the economic recovery, both at home and globally," says Rich Stovsky, U.S. leader of PwC's Private Company Services practice. "This confidence is evident in the survey respondents' strong revenue growth projections, which they put at over 8 percent for the next 12 months, with more than one-third of them expecting double-digit growth during that period."