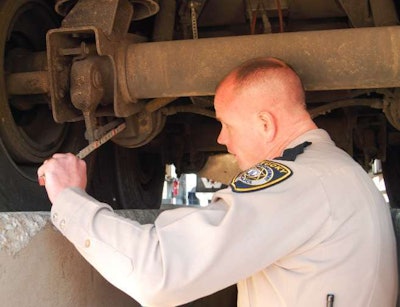 The annual Brake Safety Week inspection spree is taking place this week, Sept. 7-13.
The Commercial Vehicle Safety Alliance says it expects more than 30,000 brake inspections to take place during the week, which would be a 50 percent increase from last year's roughly 20,000 inspections.
CVSA's Brake Safety Week is part of the week-long Operation Airbrake program, sponsored by CVSA and the Federal Motor Carrier Safety Administration.
Inspectors will conduct brake system inspections — primarily Level IV — on trucks and buses throughout North America, looking for either out-of-adjustment brakes or brake-system violations.
CVSA says on its website inspectors will look for "brake-system components to identify loose or missing parts, air or hydraulic fluid leaks, worn linings, pads, drums or rotors and other faulty brake-system components."
Antilock system indicators are also checked, CVSA says.
Click here to read more on the inspection procedure as a primer for the inspection blitz.
CVSA also has on its site resources for drivers regarding Brake Safety Week: Click here to see them.