An expectation in the world of e-commerce is for buyers to have instant information on shipping costs, order status and delivery times.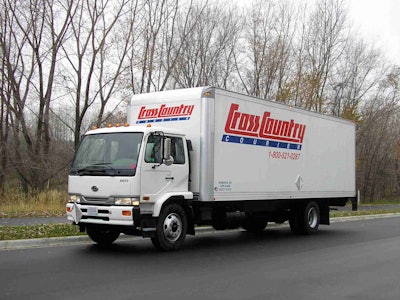 CrossCountry Freight Solutions offers all of this to its customers through a website that links together the many different components of an electronic delivery system. The main benefits from implementing this electronic platform are cost savings and more accurate routing.
The 210-truck company, based in Bismark, N.D., provides LTL delivery service throughout the Dakotas, Minnesota and Nebraska. CrossCountry primarily does business with repeat customers, says Janeanne Bischke, president and CEO. Customers login to its website to get instant rates, enter orders, track shipments and conduct all other business electronically.
Currently, 64 percent of its orders, or freight bills, come in electronically through its website and electronic data interchange, she says. By receiving orders electronically, the company's data entry costs have dropped by more than 50 percent. Routing efficiency has also improved by getting shipment information into its route planning software more accurately and earlier in the daily planning process.
When customers order a pickup online, the website generates a barcode shipping label. As shipments move through its network, CrossCountry sends status updates when the labels are scanned at the different checkpoints. When freight moves through its cross docks, scan technology prevents freight from being loaded into the wrong trailers.
Drivers use a separate application from Blackbay to scan barcodes at pickup and deliveries, and to capture signatures.
With this technology, the company can provide its customers with electronic proof-of-delivery for immediate billing. For customers that continue to use paper bills of lading, CrossCountry scans the documents and superimposes the signatures from its mobile application to provide customers with an electronic proof of delivery receipt.
The e-commerce platform has also made a difference with customer retention.
"Our competitors have not been able to provide that solution," she says.
Southeastern Freight Lines: optimized a residential delivery system for LTL freight>>
Cross Country Freight Solutions: developed a fully electronic delivery system>>