About three years ago, the corporate planning team at Southeastern Freight Lines (SEFL) made a decision to expand the fleet's capabilities for delivering to residential areas. At the time, less than 3.5 percent of its shipments were going to home addresses.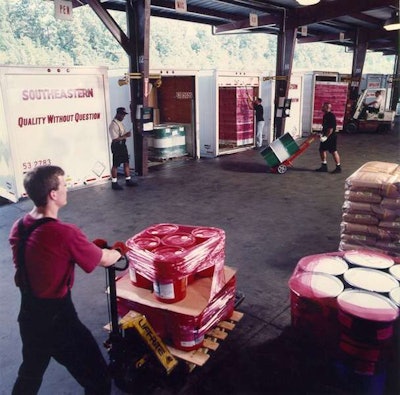 The company took note of developing trends. Many home businesses were started up during the Great Recession. Garages had become warehouses for pesticides, lubricants, cleaning products, and other items for sale.
"There was a whole lot of planning that went into this," says Braxton Vick, senior vice president of corporate planning for SEFL, a Lexington, S.C.-based LTL carrier with 2,900 trucks. "Over time we have built our systems to support a new way of doing business."
Pallet-size shipments to residential areas are now 6.5 percent of shipments in SEFL's network. Most deliveries come from two large customers that sell home improvement products.
These customers originally thought omni-channel strategies would increase parcel freight, not LTL freight, to residential areas, Vick says.
"The thing that has been different, considerably different, is that people are ordering a lot of palletized freight delivered to their homes."
About 69 percent of the fleet's home deliveries are in pallet-size quantities. To help support this line of business, SEFL created a software program that automatically identifies pickups going to private residences. It helps that about 73 percent of its orders come in electronically from the start, either through its website or EDI.
Once identified, its planning systems create optimal delivery routes that minimize mileage, meet appointment schedules, and use the right equipment — trailers with lift gates. The software also minimizes the number of right-hand turns to increase safety.
About 22 percent of SEFL's total deliveries have appointment times. For residential deliveries, 93 percent of have appointments. This is by design.
Without appointments, SEFL was bringing about half of the shipments back to its terminals. People were not at home when its trucks arrived. Now, residential deliveries automatically go to an appointment queue for customer service clerks to make calls.
SEFL is currently experimenting with a software system that uses "artificial intelligence" to automate the appointment scheduling process. The software will call customers and carry on a conversation to set delivery appointments and verify shipping details.
During the delivery process, SEFL provides its customers and consignees a delivery time that is accurate to within an hour. The information is sent to the interested parties through EDI, its website, or email notification.
Manko Delivery Systems: created a "soup to nuts" e-commerce offering for final-mile delivery
Cross Country Freight Solutions: developed a fully electronic delivery system