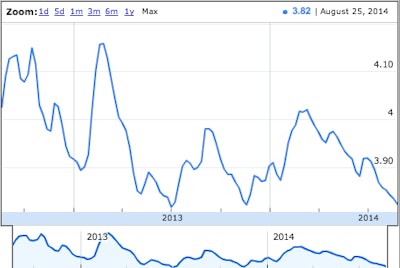 The national average price for a gallon of on-highway diesel did not change in the week ended Sept. 8 from the week prior, remaining at $3.814, according to the Department of Energy.
That's the lowest national average price since July 2012, following nine straight weeks of drops. The price is down 16.7 cents from the same week last year.
Regionally, weekly changes in averages were mixed, though nearly all small. The New England region had the largest change, a 1.1-cent drop. The Midwest and Gulf Coast were the only other two regions to see price drops, falling one-tenth of a cent and five-tenths of a cent, respectively.
The California region saw no change, while the West Coast less California region had the largest increase, six-tenths of a cent.
The West Coast and California were the only regions above the $4 mark, at $4.034 and $4.079, respectively.
The Gulf Coast had the country's cheapest diesel, $3.715, followed by the Midwest's $3.751 and the Lower Atlantic's $4.760.