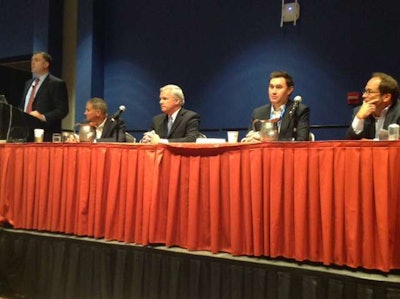 In a standing-room-only conference session, the moderator asked for a show of hands: How many in the crowd truly believed that there was a shortage of truck drivers, that it's not just "carrier rhetoric" to drive rate increases?
The show of hands was nearly unanimous.
The setting was "State of the Union," a transportation industry executive panel at the 2014 CSCMP Annual Global Conference. The gathering of some 3,000 supply chain professionals in San Antonio this week features an array specialized tracks and dozens of focused presentations and discussions.
The informal poll followed early comments by carrier representatives who emphasized how critical the driver situation has become.
"This industry has cried wolf, historically, on the shortage of drivers and capacity," said Tommy Barnes, president of Con-way Multimodal. "In the past, it hasn't materialized. But it's materializing – it's materialized. It's here. We are short of drivers in a bad, bad way."
How bad? Competing for workers in the booming oil and gas fields means that J.B. Hunt Transport has been unable to fill a driver job in West Texas that pays $83,000, COO Craig Harper explained.
"I've been hiring drivers for J.B. Hunt since 1997, and this is the toughest market that I have seen, bar none," he said. "It's a real challenge."
And a challenge that supply chain managers should welcome, Harper added.
"People have got to figure out a way to move the freight, move it safely," he said. "I think that's great for your job and your future. But we've got to figure it out; we do have severe pressures to overcome right now."
Similarly, Barnes suggested the driver issue was "not an excuse" for carriers to underserve their customers.
"We have to be more flexible," he said. "I think that's why you're seeing the rise in multimodal. It's going to be an interesting couple of years."
The result is "a really tough environment" for shippers, Barnes added, with the emphasis shifting from basic cost and service to risk mitigation, "to be sure that freight is covered."
Any growth at all in the overall economy will only make matters worse, the panel agreed.
"We're truly seeing that the tide is turning, and it's shifting to be carrier's marketplace. We're able to get rate increases in pretty easily – it's been tough on the carrier community for a long time," said Paul Svindland, CEO for EZE Trucking Holdings Inc.
 "We believe the next couple of years will continue to be strong. We feel pretty bullish."
Indeed, the heavy-haul specialist is "doubling down" on continued growth in the oil and gas sector in the Permian Basin, EZE's core market, he added.
J.B. Hunt likewise is investing heavily, anticipating significant growth in each of its operating units.
"We're spending over $700 million in capex this year, and you wouldn't be doing that if you weren't optimistic," Harper said.
Con-way's Barnes said he's "bullish, yet cautious," and he noted risk factors, such as rising interest rates, could impact the overall economy.
"We're managing our business like we did when we had to be nimble and flexible," Barnes said. "It's a carrier's marketplace, but it's going to be more balanced than it has been previously: The shipper community is smarter now."
Indeed, when asked about their "shippers of choice," the truckers emphasized the importance of collaboration, openness and long-term partnerships. More specifically, they emphasized driver productivity.
"You've got to drive out the idle time," Harper said, telling the audience about some shipping dock absurdities he's encountered on recent ride-alongs. "There's no other industry where, when the worker shows up to perform their job, they are told to go out back and wait."
Moderator Matthew Menner, senior vice-president at Transplace, noted that their own recent carrier survey found operational efficiency to be "number one with a bullet" on their list of factors for assessing a shipper relationship, which he interpreted as, "don't you dare disrespect my drivers."