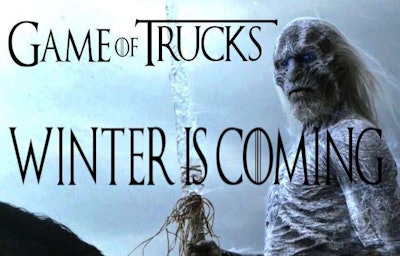 Last winter's "snowpocalpyse" essentially brought freight movement and much of the economy to a frozen halt. The question many shippers are asking their transportation providers: Are we ready if it happens again?
The "perfect storm" of bad weather, a driver shortage and productivity-harming regulations in 2014, along with how to prepare for 2015, was the focus of a session on managing carrier costs at last week's CSCMP Annual Global Conference in San Antonio.
"Everybody who was in the U.S. – whether you were in Chicago, Atlanta, West Coast, the South, wherever – experienced this snowpocalyspe," said Frank Morgiewicz, COO of ArrowStream and moderator for the session. "Twenty-three storms, capacity constraints – and we certainly don't want to hear the term 'polar vortex' again."
But while many people may hope last winter was a once-in-a-lifetime mess, crossed fingers are not a sound business strategy.
With rail traffic especially hard hit in the north and northeast, much of the freight shifted to the road – which faced it's own challenges, explained Dave Geyer, senior vice president of van truckload at Schneider National (No. 7 on the CCJ Top 250).
"Everything kind of snowballed," he said. "Every winter we deal with harsh storms, but what was really unique was the intensity, the duration and the scope of what happened."
And what was unique for Schneider was the impact the weather had on driver retention and new-hire training.
"You can imagine what drivers dealt with," Geyer said. "We had drivers who were in truck stops broken down or stranded, and at some point they say, 'I've had enough.'"
Additionally, the "regular cadence" of the recruiting cycle was disrupted, as trainees and instructors couldn't make it to class.
By the numbers, Schneider was ahead of its budget projection by 75 drivers to start the year but 325 drivers behind by May.
Intermodal giant Hub Group likewise "saw a lot of productivity issues," added Chief Supply Chain Officer David Marsh. He likened the transportation disruption early this year to that of Hurricane Katrina in 2005, except that the impact was "wider, longer and deeper."
The rails saw transit times slow by a day and a half, while local drayage operations were reduced by one run a day per truck. As had Schneider, Hub Group lost drivers because of that slowdown.
"They were making half of what they had been making," Marsh said. "Obviously, it was very frustrating when they were stuck out there."
The weather's impact touched "the whole spectrum" of transportation providers, he noted. Much of the freight moved to truckload carriers, and even to LTL networks.
"For the first time in the last 20 years, I'm hearing LTL carriers talk about their networks being full," Marsh said.
Both Schneider and Hub invested heavily in additional equipment, particularly intermodal boxes. The execs also emphasized the importance of communicating with customers, keeping them informed as at to transit times when delays are expected.
Schneider also "spent a lot" on driver recruitment and retention, including advertising, sign-on bonuses and wage adjustments.
"We had to act, and we had to act decisively," Geyer said. "We had obligations to customers. We're back to budget levels, but it took investing a great deal."
And, yes, he adds: Schneider in turn asked customers to help cover those costs.
"When you get into this type of extreme conditions, you've got to start taking some extreme actions that are above and beyond what the industry would normally call for," Geyer said.
And while customers have been "generally supportive," those negotiations can be "challenging," he added.
"I know the pressures that our customers are under when it comes to cost," Geyer said. "But ultimately you've got to get the freight moved. We're always trying to come up with solutions that we can present, regardless of the economic cycle."
Looking ahead, and to the possibility of similar disruptions, Hub Group is evaluating "programs to help compensate the driver" for lost productivity. The company also is investing in new container tracking technology to automatically notify dispatch when a box is empty and available, and which will provide extra visibility to customers.
Marsh also emphasized the importance of flexibility when the supply chain is stressed.
Schneider's Geyer again came back to truck drivers, and the importance of keeping them "whole."
But, bad weather or no, this current cycle of tight capacity is likely to linger.
"I think what's unique about 2014-2015, compared to 10 years ago, or even to '94-'95 when supply was very, very short, is what the next two or three years have in store," Geyer said. "We have some regulatory headwinds out there. I can speak from experience: ELDs have a productivity impact. A national speed limit, that's a productivity impact. I could go on and on. It's not a scare tactic, it's just what's a little bit different when you contrast it to similar times."
Arrowstream's advice for its shipping clients on preparing an unusual winter and tight capacity is here.