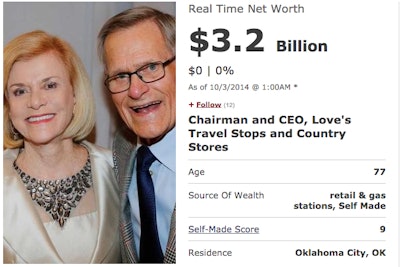 Graphics: FORBES.COM LLC
Don't feel bad if you didn't make the latest Forbes 400 list of America's wealthiest people; I just checked and, once again, I didn't make it either. But a handful of truckers, or people very involved with the trucking industry, did.
First, a note on those I didn't feature.
I thought about putting Warren Buffett (Forbes #2) on my list, based on his stakes in railroad BNSF, XTRA Lease or even in Lubrizol, which makes additives used in transportation – close, but a trucker? Geez, if you own everything, what are you?
The Koch brothers (Forbes #4 and #4a), as good old-fashioned industrialists, certainly ship a lot of products on trucks. But once upon a time, back before all the hi-tech hotshots swarmed the list, nearly every billionaire who wasn't a banker shipped a lot of goods. Mainly, I wanted an excuse to point out that the Koch Companies, which include Koch Trucking and NationaLease among others, is "in no way related to or associated with" the billionaire brothers' Koch Industries – as the trucker makes clear in a disclaimer on the website, kochcompanies.com.
And I really think the Walton family (Forbes #6-9, and then sprinkled throughout) deserve to have their portraits immortalized above, since their little ol' company, Wal-Mart, does indeed run quite a few trucks of its own. But again, close but not close enough. (And I didn't want to list them all.)
Of course, my highest-ranking trucker is really a rogue investor – but Forbes #16 Carl Icahn's large stake in the oldest nameplate in American trucking, Navistar International, gets him in. That, and there might be a few publicly traded carriers out there concerned that he'll come knocking on their boardroom door one day. Nah. Too much work, not enough money.
Did I miss anyone? Drop me a line.
And get back to work: The barrier to entry on the Forbes list is up to $1.4 billion this year. (More information about each entry, including some sometimes snarky commentary which I felt would be disrespectful to repeat here, is available at Forbes.com.)