It started with an observation on a golf course. Mike McQuade saw a fuel manager from a large trucking company looking at his smart phone between shots.
"You must get a lot of e-mails," said McQuade, co-founder of Zonar. It turns out the fuel manager was monitoring diesel prices. If they dropped a few pennies per gallon he was ready to lock in a fuel contract and save the company more than $100,000.
"How much fuel do you use?" McQuade asked in disbelief. "About $8,000 per truck per month," replied the fuel manager.
"We barely have to move the needle to save that guy a lot of money," McQuade remembers thinking.
Zonar, based in Seattle, develops mobile software applications for fleets. A couple weeks later, McQuade called the fuel manager with an idea that could save significant amounts of fuel.
"Would you be willing to work with us?" he asked. "We have data engineers that are great at collecting and doing big data analytics, but we need some real-world operators."
"If you want to take a stab at it, I'll help you," the fuel manager said.
This conversation happened about 18 months ago.
Zonar has approximately 300,000 telematics devices installed in vehicles, the majority of which are construction vehicles and buses. In these markets, fuel-saving applications are less in demand than applications for vehicle safety and maintenance.
In the heavy-duty truck market, Zonar is a major player in "connected vehicle" technology. The company has more than 85,000 telematics units in vehicles from Daimler Trucks North America (DTNA). Zonar's hardware and cloud computing platform powers DTNA's Virtual Technician remote diagnostics and Visibility telematics offerings.
With an exclusive telematics relationship with the world's largest truck manufacturer, Zonar has taken a deep dive into the data from advanced engines and vehicles. Zonar has modified its cloud computing platform to collect and process a lot of information, McQuade says.
"It's crazy the amount of data we have," he says.
With feedback and validation coming from the fuel manager he met on the golf course, McQuade led the development of ZFuel, a new application that analyzes and visualizes complex data to help fleet operators and drivers improve fuel efficiency.
From the start, the product was focused on how to maximize the 30 percent of fuel economy that is under direct control of the driver.
A common management approach is to focus on drivers who rank at the bottom of an mpg report. At the bottom, a fleet manager might see a driver with a 6.5 mpg average for the week, and at the top a driver with 8.4 mpg.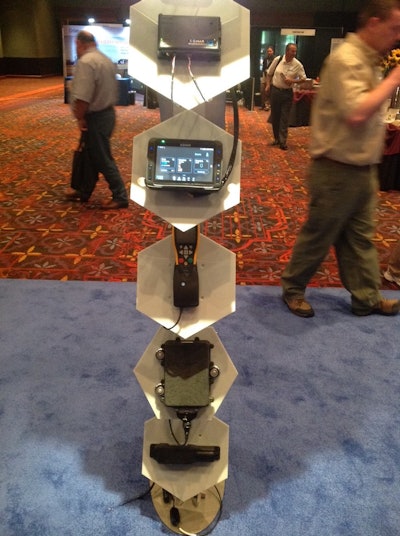 What the mpg report does not show is the driver with 6.5 mpg was pulling heavy loads in the Rockies. All things considered, the driver might actually be the top performer. Further analysis is needed to see the driver used cruise control 85 percent of the time, stayed below the fleet's top speed setting, was in the right gear 98 percent of the time, and only idled the engine for one hour that week. In other words, the driver was nearly perfect.
ZFuel does all of this detailed analysis instantly. Drivers are given a fuel efficiency score that shows how well they performed under the circumstances. A fleet manager can see, for instance, that the driver with 8.4 mpg pulled lighter loads across flat lands, never used his cruise control, averaged 2.4 mph over the fleet's top speed limit, and stayed outside the sweet spot for RPMs the majority of the time.
ZFuel also calculates the amount of money drivers could have saved each trip (each ignition on/off event) if had they done everything right.
Driving fuel savings
When using the online ZFuel application, a fleet manager could start by looking at a ranked list of drivers according to their fuel efficiency scores and fuel losses. The user could then drill down and see how individual drivers performed on particular routes. The performance of one driver could be compared against other drivers who drove the same route.
The application makes it easy to identify opportunities to improve. For instance, was the driver using proper shifting techniques when approaching the hills on his route? With ZFuel, the user could see the driver was dropping gears too early in climbs.
ZFuel has an interactive map display to identify problem areas. Clicking on a red segment of a route zooms in and charts all the variables — speed, temperature, incline, use of cruise control, etc. — on a time scale for that segment.
The possibilities for ZFuel reach beyond monitoring performance and coaching drivers. During a recent meeting with CCJ at Zonar's office in Seattle, McQuade and other company executives mentioned finding the actual fuel costs of shipping lanes and particular loads. Fleet managers could also compare performance of different vehicle specs.
<<CLICK HERE to see a sneak preview of the new ZFuel app>>
Other future possibilities include benchmarking fuel efficiency with fleets that have similar equipment and operations. Drivers could compare performance with other drivers at their company at the trip level and along a particular route segment like I-10 through Texas.
High nutrition bread
ZFuel's unique ability to analyze and visualize fuel efficiency stems from the methodology Zonar uses to capture and transmit data from the vehicle.
Telematics systems typically report position and engine data on a fixed time schedule, like every 5 minutes. The frequency of the data capture and reporting is often called a "breadcrumb" trail.
Zonar captures and transmits data on a dynamic schedule. Its telematics platform utilizes five dimensions — latitude, longitude, time, odometer and fuel usage — with a patented algorithm that determines how frequently to capture and report data. If a vehicle is driving in the city with frequent stops and turns, or in a hilly area that increases fuel usage, the computer will sample much more frequently than if the vehicle is running down a long, straight highway.
Playing with the "breadcrumb" analogy, McQuade says that telematics systems that report the basics — position, speed and heading — on a fixed time schedule are "Wonder Bread."
Zonar's breadcrumb trail is more dense and frequent. "We have high nutrition, whole grain bread," he says. "When you dissect the data, you know more information about how the truck is running and how the driver is operating the truck."
The ZFuel application is an option for Zonar's fleet management system which comes with an industrial-grade Android tablet display called 2020; an onboard computer, V3; and an online management portal, Ground Traffic Control. Applications available from Zonar for this platform include electronic logging, vehicle inspection, navigation and driver workflow messaging.