TMS systems help office workers solve complex problems and streamline the quote to cash cycle. Through mobile applications, they can also help drivers be more productive and give shippers more timely and accurate information.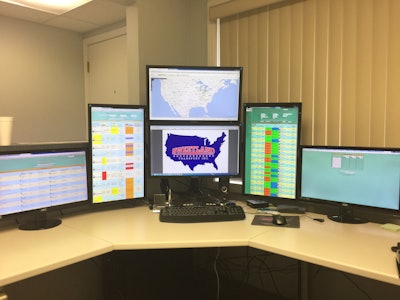 Carrier Logistics, Inc. (CLI) offers a TMS system called FACTS that is used by less-than-truckload carriers with multi-stop routes. Some of the carriers that use FACTS are using tablets and smartphones to run mobile apps that connect drivers with live information from the TMS.
CXI Trucking in Melrose Park, Ill., uses Samsung Galaxy tablets in its vehicles. Some of its drivers also use their personal phones to run a mobile app from Cheetah Software to receive dispatches and update shipment status.
CXI Trucking implemented the FACTS system with the Cheetah mobile app about three years ago.
"It is by far best decision I ever made. We've grown by at least two fold and haven't increased the number of dispatchers," says Dave Gronke, president. CXI Trucking has more than 65 trucks that operate in a 75-mile radius from its headquarters.
Double D Express uses the FACTS system and a mobile app from Acordex to get information into the hands of drivers as quickly as possible. Incoming orders are automatically routed to drivers by location. Drivers use a Samsung Galaxy Tab 2.
The mobile app from Acordex shows the pickups and deliveries on the route. Drivers determine what order to do the work. By touching an address of an order, the location is displayed on Google Maps. They can also touch the PRO number assigned to the order to see an image of the original bill of lading to resolve any discrepancies in shipment quantities directly with the customer.
By having a direct interface between the TMS and drivers, Double D Express has been able to increase the efficiency of its routing process by as much as 40 percent, says Tim Robey, operations manager of the 62-truck carrier based in Peru, Ill.
Another modern way to communicate with drivers is using cellular networks to run fleet management applications and apps that use push-to-talk (PTT) communications.
AT&T has an integrated push-to-talk dispatch system. The system includes a Web-based fleet management portal with a map view. By clicking on the location of a driver on the map, the fleet manager can communicate with the driver directly through a push-to-talk phone. The software can also send out group communications to as many as 200 people.
Fleets can use the PTT system as part of an integrated work order management system, which is one of several products AT&T offers in its AT&T Fleet Management Solutions bundle.
To avoid distraction, drivers can respond and initiate PTT calls to the office using hands-free accessories such as a foot pedal, says Igor Glubochansky, executive director, advanced mobility solutions, for ATT Business Solutions.
Click here to see how TMS systems can extend mobility to fleet managers.
Click here to return to main page.