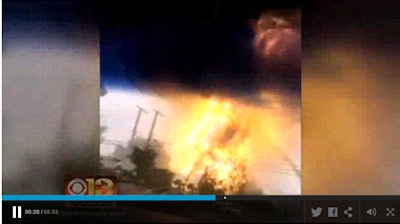 The National Transportation Safety Board has asked the Federal Motor Carrier Safety Administration to further restrict phone usage of commercial truck drivers by prohibiting the "hands-free" usage of portable electronic devices.
In an Oct. 22-issued report on a May 2013 crash in which a truck and trailer struck a train — causing a derailment and subsequent explosion — NTSB concluded the driver was having a hands-free phone conversation. The distraction of the call, NTSB says, caused the accident.
"Current laws may mislead people to believe that hands free is as safe as not using a phone at all," said NTSB Acting Chairman Christopher A. Hart. "Our investigations have found over and over that distraction in any form can be dangerous behind the wheel."
FMCSA oversight, however, also contributed to the accident, NTSB says. Its report concludes that the carrier had shown a "consistent and serious pattern of noncompliance" with federal safety regulations and that FMCSA was aware of the problems but failed to "take adequate steps to ensure" compliance.
"We continue to be concerned with FMCSA's new entrant program," Hart said. "Problem operators keep falling through the cracks."
NTSB last year called for an audit of FMCSA and its regulatory oversight, saying the agency consistently allowed problematic carriers to slip through the cracks, leading to several deadly crashes.