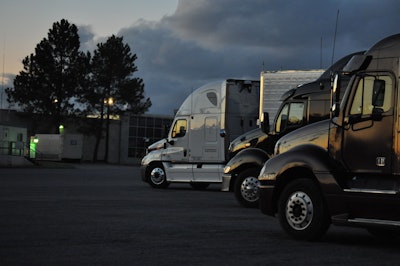 The Federal Motor Carrier Safety Administration plans to study hours-of-service flexibility relative to drivers' ability to split their sleeper berth time, said an FMCSA rep Oct. 27.
Speaking at this week's Motor Carrier Safety Advisory Committee, FMCSA Chief of Research Martin Walker said the agency plans to award a contract for the study by the end of this year, but data collection likely won't start until January 2016, he said.
The agency wants to determine with the study whether splitting sleeper berth times has an effect on highway safety. It is looking for participants to undergo monitoring while the researchers vary sleeper-split rules in some ways that resemble prior hours-of-service rules.
The agency hopes to have 200 driver participants. "[200] would allow us to look at the different ways they split their sleep and determine what may be the best way," says Walker.
Participant drivers' on-road behavior will be measured by truck information system collected from fleet management systems or on-board monitoring systems to measure things like eye closure and drowsiness.
Drivers also will be given three-minute pscyhomotor vigilance tests via a smartphone app, and the results will be uploaded to researchers.
Other data will collected via actigraph, which will monitor driver sleep/wake histories, heart rate, respiration rate and physical activity.
The goal, says Walker, is to determine "whether added flexibility can result in reduced driver fatigue and improved alertness."