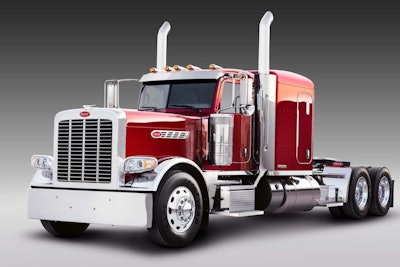 Peterbilt unveiled Nov. 4 a new special edition Model 389, the Pride & Class edition.
The truck maker says the truck is in production and is shipping to customers.
The Pride & Class edition has a "customized, show-truck-ready look," Peterbilt says, and includes insignias in the cab and sleeper denoting it as the special edition.
Among its distinctive exterior features are:
A louvred grille design similar to that of the Peterbilt 351, manufactured from polished steel
Polished hood crown and hood spine
Polished metal hood air intake vents fashioned in the style of the original 1939 egg crate grill pattern, integrated with the Peterbilt logo
Bright metal front fenders like that of the Model 379X
A large polished exterior sun visor, bumper and exhaust stacks
Polished rocker panels complementing the cowl skirts, battery box, fuel tanks and trimmed mud flaps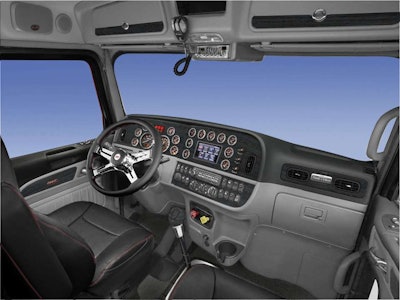 Interior features include:
Arctic gray color with charcoal dash top
Blackwood trim accents throughout
Chrome door handles, bright bezel gauges and a special four-spoke metal steering wheel with a leather wrap
Bright shifter plate with Pride & Class logo and a Blackwood shifter knob
Premium black leather seats with Pride & Class emblem embroidered in the headrests
Thick black carpeting throughout the cab and sleeper
The truck can be ordered as a day cab or with a 72- or 78-inch sleeper.