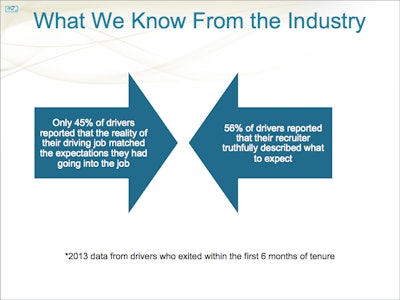 Graphics: Strategic Programs Inc.
To properly recruit and retain good truck drivers, key members of the entire carrier family need to be involved from before first contact: The training and operations departments must be in on recruiting and recruiting must follow up with training and operations; and every step should be scripted, rehearsed and tracked.
Sounds like a lot work, a lot of time-consuming cooperation? It depends on how badly you need drivers. And it's easier said than done – but will pay off in the long run if everyone's on board.
That's the message from the folks at Strategic Programs Inc. This outline and the slides are the essence of their presentation at the recent ATA MC&E.
The presentation was handled by Strategic Programs consultant Megan Younkin, who provided the theory and supporting research, and Holly McCormick, manager of recruitment and retention at Groendyke Transport, who added real world examples for attendees who packed the meeting room.
The overarching theme of program, "Getting the Driver Relationship Started in the Right Gear," focused on bridging the gap between expectations and reality, but that's a lot more nuanced than simply making sure recruiters aren't making promises about miles and home time operations can't deliver (i.e., don 't lie to recruits).
Younkin and McCormick offered five key questions carrier management should consider when evaluating driver recruiting and retention efforts:
Do operations and orientation/trainers know what recruiting is telling prospects?
In 2013, only 45 percent of drivers who exited within the first 6 months of employment reported that the reality of their driving job matched the expectations they had going into the job, Younkin noted.
"As much as some people try, we can't put all of the blame on the recruiters," she said. "They are one piece of the puzzle, but there are many others where improvements can be made."
Specifically, drivers increasingly go to the internet to check out a prospective carrier, but many company websites are designed for customers and do not convey the culture, or what it means to work for the company. And companies looking to fill seats too often will take a driver based on his or her basic skills without giving due consideration to whether or not there's a match in terms of mutual goals and expectations.
Do operations and recruiters know what is happening in orientation/training?
Is someone from operations in contact with recruiting to give them frequent updates on average number of miles for new drivers? On the average amount of home time for different areas of the country? Or what kind of equipment a new driver can expect?
"Recruiters need to be communicating realistic numbers to recruits based on the real numbers from real drivers," Younkin said.
Are drivers retaining the information they need to succeed from orientation and training?
If they're not, they're being set up to fail. Orientation programs need to consider a variety of learning styles, and make certain that recruits understand the material before moving on to something else.
A company needs to make sure that drivers feel safe to ask questions and comfortable to go to someone if they need help.
Are managers confronting misperceptions and clearing up expectations?
People from throughout the organization need to sit in on orientation to get idea an idea of what drivers are being taught – and correct any possible miscommunication before that driver goes out on his own.
"This is where you will need to dig in to what is important to a driver and is what the company can provide, and vice versa," Younkin said. "This is where you find out what the new driver might have chosen not to listen to or focus on during recruiting and orientation."
And having a formal, written-out expectations exchange can make the process a more consistent experience for every new driver.
"No matter if you are having the worst day or the best, you will cover the same content," she said.
How are recruiters, operations, trainers and managers working together to support new drivers?
Check-ins with new drivers are critical. The contact person should have a set list of questions:
Find out if the job is what the drivers expected based on what they were told pre-hire. If not, why?
Ask them if they like the job and what's better than the competition – and then use this in recruiting messaging.
Is there anyone they know of that they would refer to drive for your company? (Good drivers can offer good leads.)
And, of course, when all's said and done, the carrier team needs to look for common themes among the good drivers they've recruited: Did you find them all through a certain media? Do they have the same background or experience?
"If so, find more like them!" Younkin said.