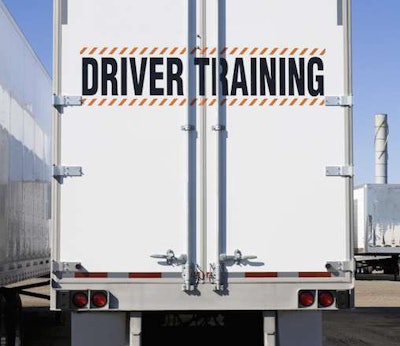 Utah-based refrigerated specialist C.R. England (No. 17 on the CCJ Top 250) has applied to the Federal Motor Carrier Safety Administration for an exemption from the federal minimum training conditions that require a commercial learner's permit holder to always be accompanied by a commercial driver's license holder in the front seat of the vehicle while the CLP holder performs behind-the-wheel training on public roads or highways.
C.R. England believes that the exemption, if granted, would allow such a driver to operate more freely and in a way that benefits the driver, the carrier, and the economy as a whole, according to the filing.
"As the FMCSA is well aware, the trucking industry is desperately in need of qualified and well-trained drivers to meet the ever-growing demand for shipping needs. However, [the CLP regulation] limits C.R. England's ability to effectively and efficiently recruit, train, and employ new entrants to the industry," the request states. "The exemption is requested due to the significant burden that this rule may create on the driver supply for C.R. England."
As the company explains, prior to the implementation of the regulation, states routinely issued temporary CDLs to drivers who had successfully passed a CDL skills test in their state. The temporary CDL allowed C.R. England time to route the new driver to their state of domicile to obtain a final CDL.
This in turn permitted C.R. England to place the new driver into an on-the-job training position with a driver-trainer that was also a productive team truck until they could efficiently be routed through their home state to finalize the CDL.
A driver-trainer, therefore, could supervise and observe the new driver but was not required to be on-duty and in the front seat at all times while the new driver was driving. Thus, the new driver could become productive immediately, "allowing more freight movement for C.R. England and an immediate paycheck for the new driver."
Because the trainer must be physically present in the front seat of the vehicle next to the CLP holder and in on-duty status during this time, the rule places C.R. England "in an untenable position."
"Either we send the driver to their home state by bus or airplane, at C.R. England's expense, and hope that the CLP holder obtains the final CDL and returns to C.R. England, or C.R. England must incur double the cost for about half of the production by sending them to their home state on one of our trucks," the petition states.
The full request is available here. To comment, go to regulations.gov.