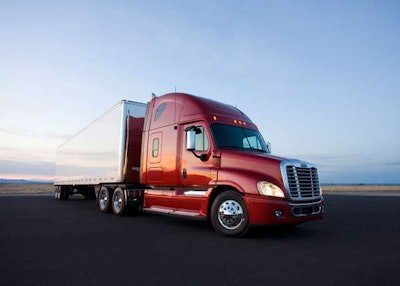 Daimler Trucks North America's Detroit powertrain division showcased Nov. 14 its new proprietary active safety system for commercial trucks. The unveiling came at a press event in Hollywood, Fla.
The Assurance active safety system has been a Daimler mainstay in Europe more than a decade now on Mercedes Actros tractors. Brad Williamson, product manager for Detroit, says the system has logged millions of test miles on top of 3.5 million real-world miles in Europe.
Daimler will continue to offer its current suite of safety systems from outside suppliers, but Williamson says the new Assurance system offers fleets advantages because it is fully integrated with Detroit engines and its DT12 automated manual transmission.

In a demonstration drive Nov. 14 in a Freightliner Cascadia, I saw first-hand how the system reacts in three alert stages to keep drivers safe. Assurance's radar system scans the highway in front of the tractor, picking up and tracking any vehicles within a 600 foot range.
In adaptive cruise mode, the system automatically adjusts speed to match traffic in front of the truck. If cruise is set at 65 mph, but a car in front is going 59 mph, the system will slow the truck down to match the slower car and automatically return to the preset speed once that vehicle speeds up or changes lanes.
If the system detects a much faster closure rate, the first warning stage mutes the stereo in the truck and sounds an audio alarm. If the closure rate continues, the system works in conjunction with the DD Series engine to decrease the throttle to begin slowing the tractor. If the distance between the two vehicles continues to close, Assurance fully engages by initiating the engine brake, downshifting the DT12 transmission and fully engaging the brakes.
Williamson notes that system is refined to the point that it does not overreact if a car simply crosses in front of the truck while changing lanes. "Assurance is sophisticated enough to recognize that vehicle is not a threat and won't engage the brakes. So drivers don't have to worry about false alarms or braking events," he notes.
An optional camera system can be spec'd to give Assurance a lane departure warning system as well. It tracks lane markings and other reflective surfaces and issues a low "rumblestrip" warning should the truck wander from its lane. It does not engage if the turn signal is activated. The system also gives drivers a high degree of flexibility: they can deactivate it in tight traffic conditions for up 15 minutes at a time, provided the vehicle remains under 49 mph. If the truck exceeds that speed, the system will automatically reengage.
The Assurance active safety system will be available on Cascadia and Cascadia Evolution tractors in the first quarter of next year.