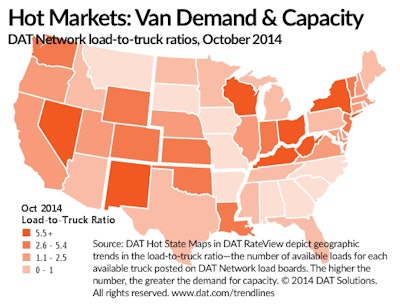 Trends in truck capacity and freight demand continue to point toward a tight market to close out 2014, with the New Year to bring even more stress on truck supply and considerably higher shipping rates, according the latest roundup of industry indicators.
"One thing that has become evident about life in America since the Great Recession is that regardless of how bad things get we will eventually figure out ways to generate more and more freight," says Stifel analyst John Larkin in his Monday market update for investors. "In parallel, our ability to supply the capacity required to move that freight is decreasing as less people choose trucking as a career and those driving are increasingly constrained by regulation."
He cautions, however, that "exclusively using driver pay as the lever to add back capacity seems unrealistic as retailers are beginning to balk at the rate increases above and beyond what they've conceded over the past year."
Spot market update
Available loads and capacity were both up during the week ending Nov. 15, according to DAT Solutions.
The number of spot market loads posted on the DAT network of load boards increased 2.7 percent compared to the previous week while the number of van, refrigerated, and flatbed trucks rose 4.5 percent.
The national average van rate lost a penny to $2.02 per mile but remained above $2 for another week, as it has for most of 2014. The average rate for refrigerated loads was unchanged at $2.31 per mile while the flatbed rate ($2.32 per mile, down 2 cents) slowed in a seasonal trend, according to DAT.
Regionally, Los Angeles-outbound lanes stayed hot due to port congestion and difficulty accessing rail services. For van freight, the high lane in the region was Los Angeles to Phoenix at $3.11 per mile, down 3 cents compared to the previous week. Other high-paying van lanes by region:
Columbus to Buffalo, $3.64 per mile (up 40 cents)
Atlanta to Orlando, $2.74 per mile (down 8 cents)
Philadelphia to Boston, $3.68 per mile (up 6 cents)
Dallas to Houston, $2.54 per mile (up 3 cents)
Nationally, the number of available van loads was up 5.1 percent last week while capacity added 4.5 percent. The load-to-truck ratio held firm at 3.0, meaning there were 3.0 van loads posted for every van available on DAT load boards last week.
Reefer freight availability increased 12 percent while capacity gained 4.5 percent. The resulting load-to-truck ratio was 9.8.
The number of available flatbed loads fell 5.8 percent against a 4.7 percent increase in available capacity. The national average flatbed load-to-truck ration fell 10 percent to 16.8 loads per truck.
Load-to-truck ratios represent the number of loads posted for every truck available on DAT load boards. Changes in the ratio often signal impending changes in rates, DAT notes.
Rates are derived from DAT RateView, which provides real-time reports on prevailing spot market and contract rates, as well as historical rate and capacity trends.
Cass TL, intermodal indices
In October, the Cass Truckload Linehaul Index rose 7.3 percent year over year as rates continue to climb.
The combination of increasing demand and capacity shortages will continue to push the index higher as effects from this year's new contract pricing are filtering into the market.
"As a result, although spot market pricing has decelerated somewhat (it remains strong), we are not surprised to see our index continue to post mid-to-high single digit gains and we expect this to continue through 4Q'14," notes Avondale Partners in its commentary. "We continue to expect contract TL pricing to rise 4-6 percent in 2014, with the higher end looking increasingly likely."
Total intermodal pricing, as reflected in the Cass Intermodal Price Index, rose 3.9 percent year over year in October. This was a 4.8 percent increase over September levels and it appears that intermodal rates could increase at a low single digit pace in 2014 due to a continuing tightening of the truckload environment.
"We would note that even with diesel prices falling in recent weeks, our 'all-in' index continues to accelerate in the near term, showing that base rates are improving at a rate that surpasses the lag due to fuel pricing," Avondale Partners says.
They expect the intermodal space to remain competitive, but that costs will increase as more long-haul carriers move into shorter lengths of haul and the truckload market continues to tighten.
FTR shipper index
FTR's Shippers Conditions Index for September, at a reading of -6.6, is basically unchanged from the previous month reflecting continued capacity shortages that degrade service and push rates higher.
With sustained capacity tightness and fleets now announcing pay increases, the cost to ship goods is expected to remain elevated. The typical slowdown in freight tonnage during the winter months will only offer a minor and short-term reprieve with the SCI expected to remain in the current range for the foreseeable future.
"While truck capacity hasn't been as bad as we saw during last winter, it has remained tight and, as a consequence, rates have been elevated throughout the year," says Jonathan Starks, FTR's director of transportation analysis. "Recently, concern has moved from capacity on the roads, to problems at the ports. We are seeing potential impacts to retailers Black Friday plans because of the port congestion."
To add to the troubles, importers are getting hit with surcharges at the ports. If a resolution of the west coast labor dispute or a winter slowdown in freight doesn't ease the situation, Starks anticipates a "very tough operating environment" in early 2015 for those that are dependent on those ports.
Additionally, truck fleets are gaining confidence in their ability to secure rate increases for next year and have been busy ordering new trucks for delivery in 2015. October truck orders were for over 45,000 units – the second highest total on record. FTR adds.
"However, we don't believe that it will be enough to significantly alter the supply and demand balance," Starks says. "The market will soften as we head into the new year (weather permitting) but will tighten again as soon as spring appears. Shippers need to be prepared for another year of dealing with tight capacity and increasing rates – no matter the mode."
The Shippers Conditions Index is a compilation of factors affecting the shippers transport environment. Any reading below zero indicates a less-than-ideal environment for shippers. Readings below 10 signal that conditions for shippers are approaching critical levels, based on available capacity and expected rates.