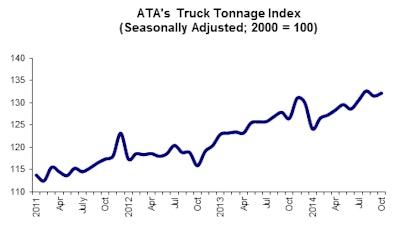 Truck tonnage as measured by the American Trucking Associations' monthly For-Hire Truck Tonnage Index rose half a percentage point in October, ATA said this week, pushing it to its second highest level on record, following August.
ATA had originally reported that September tonnage had remained unchanged from August, but in its most recent report it notes it downwardly revised the month's tonnage to dropping 0.8 percent in the month.
Tonnage in October, in addition to the month-over-month gain, was also up 4.5 percent from the same month last year. Year-to-date, tonnage is up 3.2 percent, ATA says.
ATA Chief Economist Bob Costello says the "nice comeback" in October is in line with other economic indicators.
"The gain fits with the increases in retail sales and factory output during October, as well as with good anecdotal reports about the fall freight season," he said. ""The solid month-to-month gain, coupled with the acceleration in the year-over-year growth rate, is a good sign for the fourth quarter. In addition, I'm expecting a solid fall freight season as holiday sales are forecasted to see the largest increase since 2011.
ATA calculates the index on surveys of its members.
Here's Costello discussing the October report: