It's Thanksgiving Week. Everyone's ready for a break to spend some time with family and — in many parts of the country — hit the woods and do a little hunting. So let's take a break from the business of trucking and have some fun this week.
I ran into a high school buddy of mine at the Winn Dixie supermarket ahead of the Alabama-Mississippi State game the other day. We were both stocking on necessities to get us through the big game and chatting while in line to check out.
Todd owns Todd Shirley Grading and Excavating here in Tuscaloosa, and his distinctive purple on yellow Kenworth dump trucks are a familiar sight around these parts. Like a lot of small fleet owners, Todd is always looking for good deals on used or wrecked trucks – either to put them work in his fleet or part them out to keep his rigs on the road.
Like many Southerners, Todd is also a committed hunter and, like many small fleet owners, he has a shop that he loves to tinker around in. And he has more than a few sleeper cabs that he's pulled off salvaged trucks and has no use for in his day-to-day hauling business.
What to do?
In a stroke of genius, Todd started building shooting houses to hunt out of from the old sleeper berths he was pulling off the used trucks he bought – and showed me pictures of the project on his phone.
And the more I thought about it, the more I thought it was the coolest project I'd seen in quite a while.
Now, first of all, let's get our names straight since there's probably some regionalism language at work here: In Alabama we call them "Shooting Houses." Elsewhere, they're commonly called "blinds." But the overall idea is the same: a primitive shelter (usually crafted from plywood) a hunter can sit in to keep (sort of) warm, dry and hidden while watching a food plot or other high-traffic game area.
And, as anyone who's ever sat in a shooting house/blind knows, they're always almost cold, drafty, noisy and plagued with all sorts of mice, rats and insects.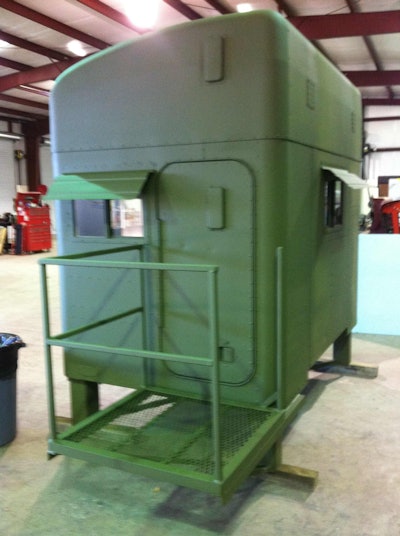 Which led to Todd telling me at Winn Dixie, "To hell with sitting in a plywood shooting house."
Whenever Todd comes across a salvageable sleeper berth (the one pictured came off a Peterbilt) he pulls most of the interior out, adds a bit of additional insulation and sliding windows that can be opened and shot out of and a coat of matte green exterior paint. The result is an amazingly quiet, comfortable and durable shooting house. Todd figures they'll last 20 years in the wild easy. And they're totally sealed – he shuts them up in January on the last day of the season, and when he opens them back up again in the fall, he doesn't have to deal with wasps, hornets, rats, snakes and all the other fun stuff that collects in a shooting house over the summer.
Now, Todd and I both think he can't surely be the first fleet owner/trucker to come up with this particular idea. Still, it's a nice little recycling trick that outdoor-loving fleet owners all over the country ought to consider next time they've got an old sleeper on their hands.