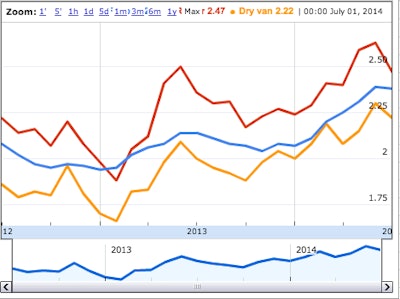 Per-mile spot market rates in reefer and dry van segments saw big jumps in November, keeping in line with seasonal trends, while flatbed rates fell a few cents in the month, according to data released Dec. 1 by Internet Truckstop.
Rates in all four segments had fallen every month since June (save for a one-month uptick in September for reefer rates), but reefer and dry van turned around in a big way in November, presumably due to the seasonal uptick in holiday-related freight.
Rates in all three segments set records in June and have continued to ride the wave of this spring's uptick.
Van led the month-to-month increases with a 19-cent jump, pushing it to $2.21 a mile — its third-highest monthly rate on record and 23 cents higher than November of last year.
Reefer rates rose 18 cents in the month to $2.50 — 27 cents higher than the same month last year.
Flatbed rates fell 7 cents to $2.18. It's 14 cents higher than November 2013 and is higher than its roughly $2 hovering point from recent years.