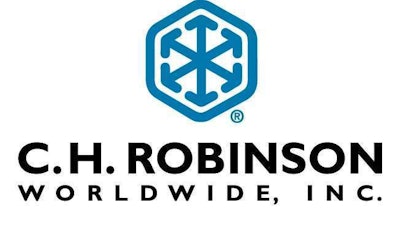 Third party logistics giant C.H. Robinson has reached an agreement to acquire online broker Freightquote.com Inc. for $365 million in cash, the company reported Monday. The agreement is subject to regulatory approval and the deal is expected to close in the first quarter of 2015.
Founded in 1999 by Tim Barton, Freightquote is one of the largest internet-based freight brokers in the United States. Headquartered in Kansas City, Mo., with approximately 1,000 employees, Freightquote provides truckload, less than truckload and intermodal services to approximately 80,000 customers.
Freightquote's calendar 2014 gross revenues are projected to be approximately $623 million, according to C.H. Robinson news release.
"Freightquote is a high quality, innovative, growth company that brings a proven model serving smaller businesses. Its proprietary e-commerce technology allows shippers to easily access competitive rates and automated load acceptance and payment functionality," says John Wiehoff, C.H. Robinson chairman and CEO. "E-commerce is going to be a bigger part of future supply chain services and Freightquote brings us a leading solution in our industry."
Wiehoff touted the company's "track record of success," along with Freightquote's "established brand."
C.H. Robinson, whose revenues are estimated to be more than $13 billion this year, expects the acquisition will increase its market share with small businesses and significantly expand its presence in the Kansas City market.

Tim Barton, executive chairman of Freightquote, will serve as a consultant to Freightquote following the closing of the acquisition.
"We spent a long time looking for the right strategic partner and are pleased to join the C.H. Robinson organization," says Barton.