McLeod Software announced a new sales record for 2014 with revenue climbing 65 percent over 2013, the previous record, making 2014 the fifth consecutive year of greater than 20 percent year-over-year compound annual growth.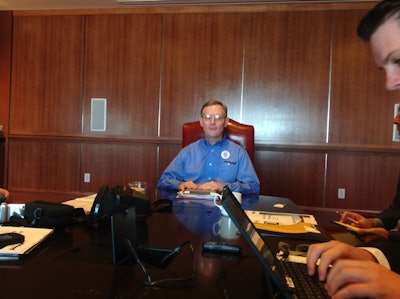 All of its 2014 sales increase was organic; the company now has 350 full-time employees.
"Transportation companies are investing in our enterprise software and robust business process automation solutions at unprecedented levels," said the company's founder and CEO, Tom McLeod, who also credited trends such as an improving economy, tight capacity and transportation companies broadening their service offerings.
"Shippers want to deal with companies that are expertly managed and that are as sophisticated at handling information as they are at handling the freight," he added. "Another driver for McLeod Software's growth is that many transportation companies are seeking the ability to turn big data into big insight to help people at every level in their company make better decisions throughout the work day."
Better insight, he explained, means putting the right information in front of every team member to help them make the best decision at the right time.
"This requires active business process automation and accurate information on pricing, profitability, and a host of operational metrics. This goal has been a struggle for companies with older legacy systems, leading many of them to seek new enterprise technology platforms that provide such capabilities."