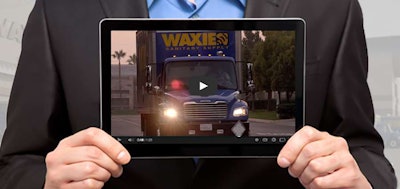 SmartDrive Systems announced that Waxie Sanitary Supply, America's largest independently-owned distributor of sanitary maintenance supplies, is transitioning its entire fleet to SmartDrive's video-based safety program.
After switching from a competitive system, SmartDrive reported that Waxie has already improved its safety score by 44 percent, reduced driver speeding by 57.5 percent, mobile phone usage by 25 percent and seatbelt violations by 72.2 percent.
Waxie's fleet will be outfitted with SmartDrive Assurance, a configurable program that lets the company focus on its top priority collision risks which include backing, unintended lane changes, roll-overs and close following from passenger vehicles. The company is also using the platform's extended recording capability, beyond the 20-second clip, to capture more information around incidents, while gaining deeper insights into compliance and safety issues.
"The capabilities SmartDrive provides are head-and-shoulders above what we had previously — including more flexibility to configure the program to our business needs and target risk areas," said Kevin Desmond, safety specialist at Waxie. "The telematics data and contextual vehicle information that accompanies the video — including speed, GPS and map location, and braking — has delivered significantly more insight to our risk. This has helped us more effectively coach our drivers and better investigate claims when they occur."