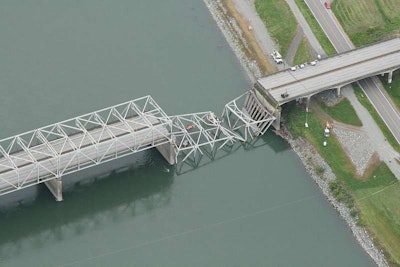 The Washington State Department of Transportation announced last week it has sued the carrier and driver involved in the May 2013 Interstate 5 bridge collapse that occurred in Washington state over the Skagit River.
It has also sued the pilot car driver, the pilot car company and the owner of the cargo (a metal shed) being transported. WDOT is seeking $17 million from the defendants — the cost of the response to and repair of the collapse, it says.
WDOT cites reports from the National Transportation Safety Board and the Washington State Patrol — both previously reported on by CCJ — that paint a damning picture for the carrier, driver and patrol car operator.
WDOT claims in its suit (a) the driver did not know the height of his load and was actually carrying a load two inches taller than he was permitted to carry (b) the carrier and driver did not research the route to determine clearance (c) the pilot car driver was on the phone when crossing the bridge and therefore did not notify the driver of the truck of the impending clearance issue and (d) the truck driver was following the pilot car too closely.
In its July 2014-issued report, the NTSB determined that the pilot car driver had placed five calls on her cell phone in the 30 minutes preceding the bridge strike. And she was on the phone at the time she crossed the bridge, the report says.
NTSB also said that an off-duty truck driver saw the pilot car's height pole hit the bridge in four or five places when it crossed, though NTSB was unable to determine whether that is true or not.
NTSB also in part blamed the carrier for the bridge strike, saying it did not check the route or bridge clearances prior to the crash. But it also partly blamed the state of Washington, saying there were no warning signs on the bridge to alert drivers of its height restrictions.
The bridge collapse occurred when a 2010 Kenworth towing a 1997 Aspen flabed with a casing shed hit a sway brace on the bridge, causing it to collapse into the Skagit River.
NTSB and the Washington State Patrol said had the truck not been in the far right lane, it would have cleared the bridge.